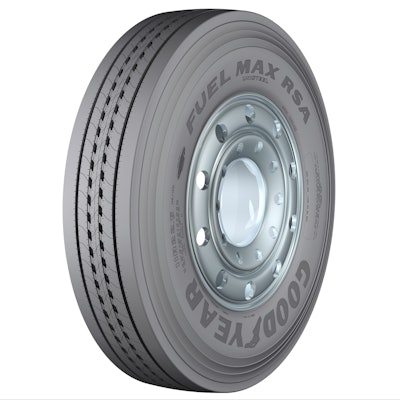 Goodyear has introduced a new commercial truck tire designed for improved fuel economy, traction and durability for regional/long haul fleets.
Goodyear says its new Fuel Max RSA contains a heat resistant, tri-layer compound that is engineered to improve mileage, rolling resistance and lessen the likelihood of impact failures.
"The new Fuel Max RSA has been designed to deliver numerous benefits to help lower the operating costs of regional/long haul fleets that operate mainly on-highway and have some exposure to urban driving," says Norberto Flores, marketing manager, Goodyear.
"Despite the fact that fuel costs have declined in recent months, fuel efficiency will remain a prominent fleet requirement, which is why we're extending Goodyear Fuel Max Technology to regional tires."
The tire features Goodyear's IntelliMax Rib Technology which provides a stiffer tread area for lower rolling resistance, higher mileage and even wear, according to Flores.
Goodyear reports that an innovative tread design offers improved snow traction, and that a 20/32-inch tread depth will yield cost-per-mile savings.
The Fuel Max RSA is available in size 11R22.5, Load Range G. Additional sizes, including 295/75R22.5 and 11R24.5 in Load Ranges G and H, and 11R22.5 in Load Range H, will be introduced in early 2016.