Honda Ridgeline is the only pickup that comes factory-equipped with an in-bed audio system but if you turn your attention to the aftermarket, Kicker Performance Audio will put on on your tailgate.
GMC's MultiPro Tailgate for the 2019 all-new Sierra is one of the most versatile on the market with the ability to open in six positions and the audio upfit from Kicker adds stereo capabilities. It is designed to turn on and off automatically when the gate is raised or lowered, this independent 100-watt, exterior audio system comes with a pair of weatherproof speakers and compact amp, a charging USB port, a 3.5mm audio jack and full Bluetooth compatibility.
The GMC MultiPro Tailgate System featuring Kicker Audio will be unveiled to the 2018 SEMA Show next week and HWT editors will be in attendance.
Available on all-new GMC Sierra SLT, AT4 and Denali, the new audio version of the MultiPro Tailgate System connects to personal devices via Bluetooth, playing through two, 4-inch weatherproof coaxial drivers independent from the interior audio system to bring the music outside and around the truck. It is a low-current-draw system made to play outside for hours.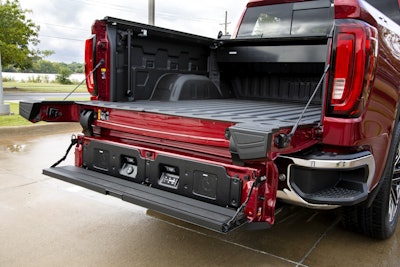 Kicker says the system has been heavily field-tested and proven to withstand the elements, adding it features full structural integrity for regular truck use, including the ability to accept OEM-certified light kits. The electronics inside are further protected by a long-lasting ABS custom baffle that is fully gasketed to prevent seeping moisture or dirt.  The integrated T-harness, connectors and plugs are completely weather-resistant to further protect the system.
Additionally, a tilt switch is implemented into the system, allowing for the tailgate's audio power to automatically stop when it is in a closed position so the listener doesn't have to worry with on/off buttons or battery issues.
The one-amp USB port will charge a phone, and it will also accept and play any audio from a USB memory stick.