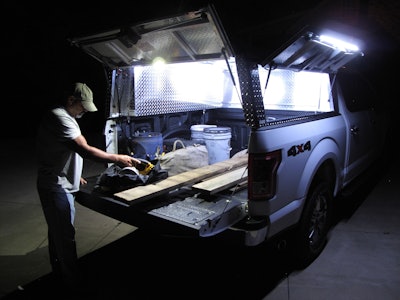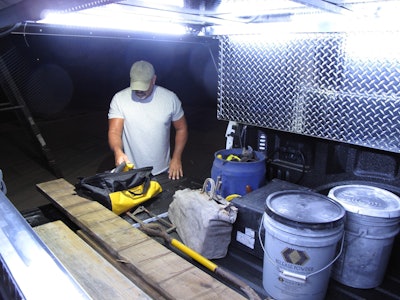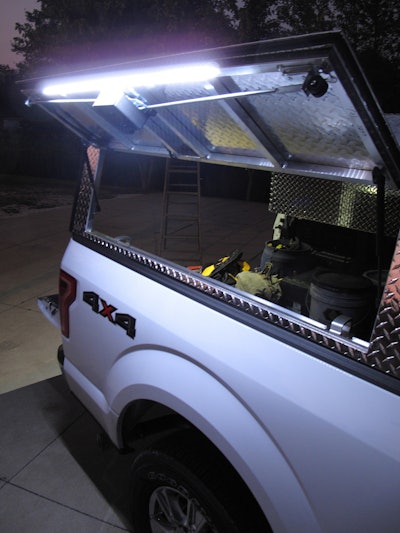 A.R.E Accessories, a leading manufacturer in truck caps and tonneau covers, is now offering additional lighting options for the interior and exterior of truck caps and tonneau covers.
"We understand lighting can be a necessary tool that allows many commercial operators to do their jobs safely and efficiently," said Jose Reyna, national fleet and commercial sales manager at A.R.E. "As solutions emerge that solve particular challenges for our customers, we'll continue to add innovative, new accessory products to our line."
To enhance A.R.E.'s Deluxe Commercial Unit (DCU), customers order in advance when specifying options on their truck cap so the LED lighting is installed at A.R.E.'s manufacturing facility. When the DCU truck cap is installed, the lighting will already be set up and ready to plug and play, exactly as ordered.
To help increase convenience for fleet and commercial customers, A.R.E. can offer all options as a single purchase order, no matter how many different lighting options are needed. This process is designed to streamline transactions by reducing paperwork.
A.R.E.'s ultra-efficient LED options are rated for 100,000 hours, far outshining the 25,000-hour rating for incandescent lights. A.R.E. lighting options include:
* Dome lights — LED brilliant dome lights are wired directly into the vehicle's electrical system. Offered with an optional prop switch, LED dome lights are designed to conveniently turn on and off when the door is opened and closed, or can be controlled with a manual on/off switch.
* Rope lighting — High-intensity LED rope lighting offers versatility in lighting the interior of a truck cap or toolbox. Options include a single four-foot LED rope at the center of the cap or two parallel ropes with one on either side of the inside roof. LED ropes may be placed inside above windows, inside toolboxes or to illuminate the entire chamber.
* Rigid Industries LED Lighting — A.R.E. has teamed with Rigid Industries, to offer ultra-bright work lights. Known for durability and brightness, Rigid Industries' products offer a lifetime warranty. Choices include 36-inch or 48-inch bar lighting, which can be positioned on the front of the cap to shine directly on a project, or to light up an entire work space.
* Rear door lighting — This new fixture replaces the optional incandescent 12-volt light the industry has used for decades. Much brighter than its predecessor, the LED light is mounted inside the truck cap above the rear door, allowing closer detail work, such as paperwork, without the need to hold a flashlight..
* Exterior lighting — A.R.E. offers LED lighting for up to 10 different locations on the rear quarters of the DCU, based on customer needs.
These DCU lighting options are in addition to A.R.E.'s other leading edge innovations including the Slick Lock, roller rods, back up camera as well as keyless entry.
A.R.E. Accessories, a Truck Hero, Inc. company, began manufacturing aluminum frame truck caps in 1969 and has become a leading manufacturer of fiberglass truck caps and hard tonneau covers for consumer and fleet/commercial use. At its ISO 9001:2008-certified manufacturing facilities, A.R.E.'s 670 employees create the products that are sold through a network of more than 675 independent authorized dealers.