TRW has introduced a new electric parking brake (EPB) to the light truck market, which it expects to bring to market by 2017.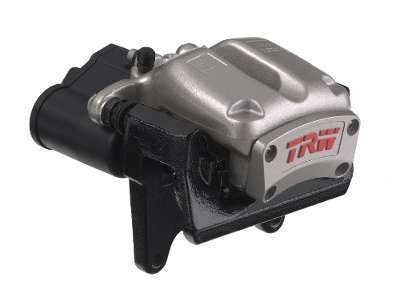 Ed Carpenter, vice president and general manager of TRW's global braking business, says EPB can save more than 20 pounds per vehicle for larger trucks and SUVs when compared to conventional drum-in-hat park brakes – leading to enhanced fuel economy and reduced CO2 emissions.
"In addition shifting from a mechanically controlled to an electronically controlled solution enables many new functions that can work with other vehicle systems to add value for consumers," he says. "For example EPB can work in conjunction with electronic stability control to help allow for safer emergency stops by preventing wheel lock, or help relieve fatigue in traffic jam situations by holding the vehicle stationary when needed and allowing the vehicle to move forward when safe to proceed."
It also eliminates levers or foot pedals used to engage mechanical park brakes as well as the brake cabling, all of which have been replaced by a button or switch and electronic wiring.
TRW says it has more than 50 million EPB calipers on world roadways. The heavy duty EPB solution features higher clamp loads – from 18.5 kilonewtons (kN) for larger passenger cars, light trucks and mid-size SUVs – to the heavy duty version with a 25 kN clamp load.