New Product How-To/Review
Decked Cargo Storage System Install
Special to HWT by Steve Temple
(Photos by Austin Price and the author)
As the late, great comedian George Carlin once quipped: "That's all you need in life, a little place for your stuff."
While he was alluding to houses and suitcases at the time, the same is true for the cargo area of your pickup.
After all, that pile of tools, chains, spares and general hardware just needs to find a home—somewhere, anywhere, other than rattling around and messing up your cabin or cargo bed.
That's where a Decked storage system can really make your life easier.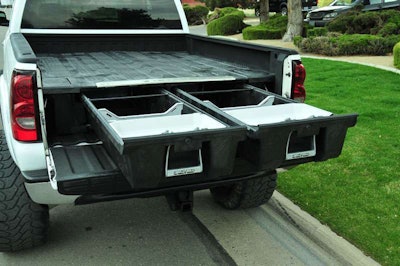 Made of steel-braced, UV-protected HDPE (High-Density Polyethylene), this 12-inch-tall raised bed of drawers can handle basically whatever the factory bed can, as much as a 2,000-pound load.
There's sufficient clearance to install a Decked system even with a spray-in bedliner (but you'll need to remove the factory tie-down brackets, and/or a plastic drop-in bed liner).
The Decked system fits most all full-size pickups dating back to the late 1990s. The exceptions are those with eight-foot or stepside/flareside beds, and the full-size, four-door, short-bed Ford F-150, '01 through '03 model years.
Note, however, that not all pickup beds are made the same, so some spacing differences may show up, and require centering the Decked system between the wheelwells.
As the gallery below shows, installing a Decked system takes only a couple hours using the most basic mechanic's hand tools: adjustable wrench (that opens to about 1"); 1/2" open-end wrench; Phillips screwdriver; Pliers (needle-nose will work best); 3/8" socket; 7/32" Allen wrench; and T30 Torx Driver.
While tradesmen will likely see the immediate value of keeping their tools organized, the drawers can be reconfigured with dividers and liners to hold all sorts of objects, including recreational items—besides providing a little place for all your other stuff.
We found the system to be durable, versatile, weatherproof and light in weight: Four traits any contractor would find appealing when looking for bed cargo management solutions.
DECKED: 208.806.0251