Tire Review: Cooper Discoverer HT3
by Bruce W. Smith
Normal consumers who don't use their pickups for work seldom think about replacement tires. After all, the average consumer puts less than 15,000 miles a year on their vehicles. So the OE tires will probably last for four to five years before replacement concerns arise.
On the other hand, those who run pickups day in and day out for work can easily log more than 30,000 miles a year over a variety of road conditions and with varying loads.
Landscapers are particularly hard on tires as they are constantly moving from one job to the next, equipment trailer in tow, stopping, starting, turning and backing.
Getting two years out of a set of factory tires in such use would be a very good track record for a commercial landscaper.
Sooner or later the tires are going to need to be replaced. A good one to consider when that time comes is the new Cooper Discoverer HT3. It's a premium commercial-grade, all-season highway tire.
The high-tread mileage, quiet, smooth running Discover HT3 was rolled out last year when Cooper Tire & Rubber Co. added it to the company's ever-growing offerings in the light-duty (pickup) line.
Scott Jamieson, Cooper's director of product management, said the HT3 "satisfies the needs of hard-working business owners" while "covering approximately 96 percent of the most popular light truck highway market sizes."
I've been running a set of LT265 70R17 HT3s on my '11 GMC Sierra 1500 Crew Cab 4×4 for the past several months. During that time I've driven in heavy rains, sleet, snow, ice, on dry pavement, gravel, dirt and light mud.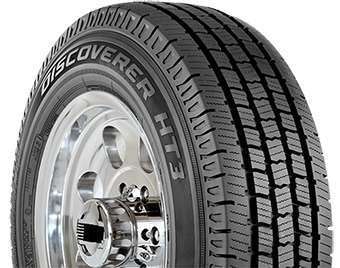 I've found the HT3s to be exceptionally quiet and providing better all around traction and vehicle control than the OE all-terrains they replaced.
The "silica-infused" tread compound and the special "micro 3D" siping in the tread blocks worked nicely when we were hit with unseasonably cold weather along with ice and snow here in the Deep South.
The tires' open blocks and deep tread grooves have done a commendable job providing good vehicle control/traction in heavy rain.
They also seem to make my GMC a fraction quicker than the OE tires they replaced in resounding to steering inputs. The truck just tracks better – with or without a trailer on the hitch.
It's way to early to tell anything about tread life. But the HT3 comes with a 50,000-mile Treadwear Protection.
The tread design of the HT3 helps resist abnormal treadwear that is common with commercial vehicles where constant starting, stopping and turning are the norm.
Cooper's tire folks told me at last year's SEMA Show that I should see less tread wear and a more uniform tread wear pattern compared to competitive brands of similar design. Time and miles will tell.
I've also noted about a 1/2-mpg improvement in fuel economy. I attribute that to 1) the HT3 is about five pounds lighter than the tire it replaced, and 2) the tire's design has less rolling resistance than the all-terrain it replaced.
The Discover HT3 isn't a flashy tire by any means. It's all about function.
The HT3 designed for highway and commercial driving for light trucks and small fleet delivery vehicles, including Sprinter, Ford E-Series, Ram Cargo, Chevy Express and Nissan NV Cargo vans, as well as three-quarter and one-ton pickup trucks.
BENEFITS
Continuous shoulder rib provides superior resistance to irregular wear for longer life and a quieter ride.
Interlocking tread elements provide improved handling.
Increased lateral slots increase traction in both wet and snow conditions.
3-D micro-guage sipes provide an interlocking geometry to increase tread element stability for improved vehicle handling and all-season performance.
Utilizes a silica tread compound for enhanced wet traction and treadwear.