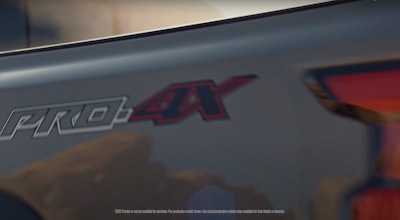 Is it a supercharged V6? Whatever it is, Nissan's all-new 2022 Frontier has an impressive growl that may hint at a serious appetite for Tacomas, Rangers, Colorados, Canyons and Ridgelines.
With five other midsize pickups in the segment, Nissan needs to come out swinging hard. The six-second teaser video Nissan released this week looks promising with plenty of dirt flying and a roaring engine to boot. (Look into the teased quarter panel above and you'll see the reflection of a desert wonder. My guess? Arizona, close to Nissan's proving grounds.)
Could it be a supercharged V6? It wouldn't be the first time. In the early 2000s, the Frontier could be spec'd with a supercharged 3.3-liter V6. At 210 horsepower and 246 lb.-ft. torque, it offered 40 more horses and 46 more lb.-ft. than the standard 3.3-liter.
The Frontier's all-new roar has perked the ears of plenty of viewers on Nissan's YouTube channel where some think it might indeed be a supercharged V6, or maybe a V8 (odds are slim to none) or just a marketing stunt.
I think the roar is real and that this truck is going to be a big competitor. Nissan has a solid history of delivering high-performance vehicles. Consumers are hungry for powerful pickups and profit margins are big for OEMs who can deliver. And it's no secret that Nissan's had plenty of time to size up the competition and deliver a dirt churning dynamo.
Now, if this thing can tear up dirt, eat up the street and get airborne, then they'll really have our attention. No one's delivered a midsize super truck in North America yet. Come on Nissan! Okay, admitedly, I'm a little excited about jumping another truck on our new off-road course.