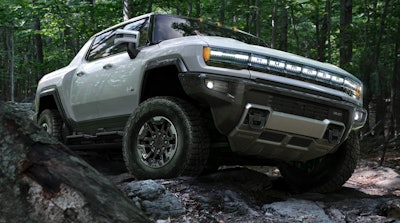 GMC unveiled its all-electric 2022 HUMMER EV pickup this week with an estimated 1,000 horsepower and 11,500 lb.-ft. of tire-shredding torque.
Let's just stop there for a second. Hmmm…yes, electric HUMMER drivers will be able to easily smoke most drivers at the light or off the beaten path.
From high performance tiger to an ultra-quiet ride in the woods (a big plus for off-road EVs that we pointed out a few years back in our review of the pre-production electric Workhorse W-15), the electric HUMMER looks to be an exciting new entry in the nation's hottest auto segment where internal combustion has reigned king since steam fizzled out in the early 19th century.
"The all-new GMC HUMMER EV will be the first of its breed — an open-air, all-electric supertruck with zero emissions and zero limits," said Al Oppenheiser, HUMMER EV chief engineer. "It will have the capability to go almost anywhere, on- or off-road, combining screaming performance with a nearly silent ride."
Three electric motors within the Ultium Drive system offer a GM-estimated best-in-class 1,000 horsepower and, when multiplied through the front and rear drive unit gear ratios, offer more than 11,500 lb.-ft. of torque to the wheels.
As far as tire-smoking performance, HUMMER EV's Watts to Freedom launch control mode will propel the truck from 0 to 60mph in roughly 3 seconds.
Not sure that you'll hear the Star Spangled Banner, but GMC designed Watts to Freedom as an event to remember. Once the selection is made, the truck conveys "the feeling of a pre-launch countdown including interactive controls, unique sounds through the Bose speakers and screen animations," according to GMC. To help overcome the 'truck as cumbersome brick' dilemma, Watts to Freedom automatically drops the pickup two inches to offer a lower center of gravity prior to launch.
"It's an amazing demonstration of just how fast 1,000 horsepower and 11,500 lb-ft of electric propulsion can move you — regardless of the vehicle's size," Oppenheiser said. "It'll put a smile on your face every single time."
The experience doesn't end there. When a drive mode is selected—normal, tow/haul, off-road and terrain, along with the configurable my mode featuring a new adrenaline mode—the truck undergoes changes to chassis, suspension and propulsion characteristics while inside the cab audio and display cues signal, or perhaps celebrate, the drive mode.
Crabwalk mode allows the rear wheels to turn 10 degrees in either direction to help navigate tight spots. Besides getting around off-road challenges, crab mode might come in handy when parking which can be a challenge for some pickup owners.
Range is estimated at around 350 miles and fast-charging allows for 100-mile top-offs in around ten minutes. No word yet on towing and hauling capabilities. GMC told Hard Working Trucks they want to complete some real world testing before releasing those numbers.
Four HUMMER EV models will hit dealers over a nearly three-year spread. The three-motor Edition 1 crew cab short-bed comes first in fall of next year. Reservations have already sold-out but a wait list is available.
With a starting price of $112,595, Edition 1 features a white exterior, a high-contrast Lunar Horizon interior and special Edition 1 interior badging. It also includes the Extreme Off-Road Package, which adds adaptive air suspension with available extract mode capability (lifts the truck roughly 6 inches), 4 wheel steer with CrabWalk, 35-inch-OD Goodyear Wrangler Territory MT tires (the truck will handle up to 37-inch tires), underbody armor, rock sliders, underbody cameras and more.
The three-motor HUMMER EV3X (800-hp/9,500 lb.-ft. torque) rolls out in the fall of 2022 with an estimated 300-plus mile range and an MSRP of $99,995. The two-motor HUMMER EV2X (625-hp./7,400 lb.-ft. torque) comes next in the Spring of 2023 with 300-plus miles of range and an MSRP of $89,995. The two-motor HUMMER EV2 (625-hp/7,400 lb.-ft. torque) arrives at dealers in the spring of 2024 with a price tag of $79,995.