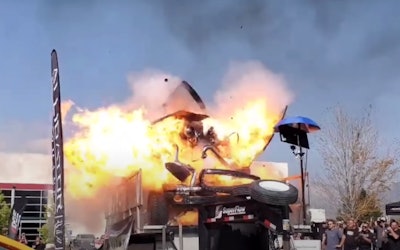 While diesel remains the undisputed king of hard work, it does have its breaking point.
In a now viral, failed attempt to hit 3,000 horsepower in a Ram heavy-duty pickup, a completely stressed-out 6.7-liter Cummins exploded on video and thankfully caused only minor injuries.
The Industrial Injection Master Shredder truck was close to reaching its jaw-dropping goal when it exploded during a dyno run before an audience last month at Edge Products' Weekend on the Edge 2020 in Ogden, Utah.
Two men were inside the truck at the time including Master Shredder builder Shawn Baca who had this to say on Facebook:
Well truth be told I don't really know what to say about this other than thank god me and Kody Pulliam walked away from this and nobody was seriously injured. Aside from burns and bruises from bailing out we are good. Cant thank everyone enough for the blessings and support through this. Living up to its name. THIS IS THE MASTER SHREDDER! 2,920 horsepower and over 4,000 torque is the number it made prior to this run. The push for 3K ended in this. Me and this truck have been through hell and back literally.. I love and live for this sport or whatever you want to call this madness. Nobody but god himself can take that away from me. Until that day comes i will keep pushing it to the limits. Very grateful nobody was seriously injured trucks and parts can be replaced. #blessedbeyondmeasure #mastershredder #fullsend