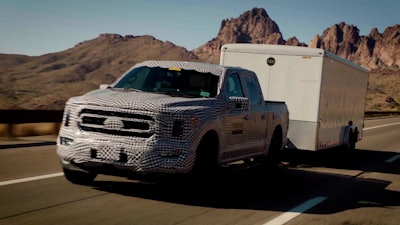 Ford released a video this week showing torture testing of its new 2021 hybrid F-150 which includes a memorable battery test.
The all-new 3.5-liter PowerBoost full hybrid powertrain with 430 horsepower and 570 lb.-ft. torque (the most ever in an F-150) is available in the all-new F-150 and is the only full-hybrid powertrain available in a pickup.
"Just because it's a hybrid doesn't mean we treated PowerBoost with kid gloves," said Craig Schmatz, F-150 chief engineer. "To earn Built Ford Tough certification, PowerBoost went through the torture testing we put all of our powertrains through. No F-150 powertrain gets a pass, we have one standard for quality and durability."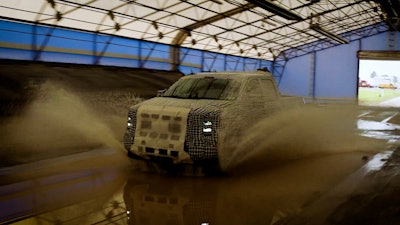 The hybrid F-150 had to pass the same tests all other F-150s take on which included towing fully loaded trailers over desert mountain passes in 100-plus degree temperatures, withstanding punishing terrain off-road, conquering frozen tundras, and enduring high-humidity chambers, salt baths and roads designed to beat up trucks.
Given the uptick in truck electrification, Ford's battery durability test ranks as one of the more interesting challenges. While not as dramatic or scenic as the off-road event in Borrego Springs, Calif., it provides a closer look at a category of testing that remains new to many of us.
Ford built a custom testing machine using multi-axis hydraulic actuation to violently shake the powertrain's 1.5-kilowatt-hour lithium-ion battery – simulating conditions like hitting the harshest of potholes and washboard roads, then subjecting it to even more daily abuse. Putting the battery through just 82 hours on this machine is the equivalent of 10 years of life. "This thing is like a mechanical bull on steroids," said Jack Parnoutsoukian, high-voltage application engineer.