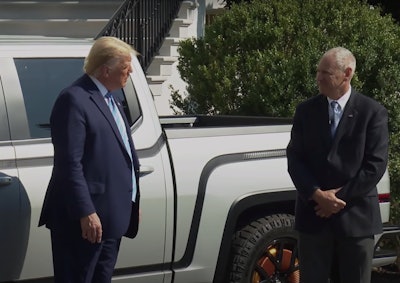 It's not every day that you see an electric pickup—and certainly not one parked in front of The White House.
But that was the case this week as President Donald Trump lauded Lordstown Motors for their upcoming electric Endurance pickup.
While standing in front of the crew-cab truck during a brief outdoor press conference, Trump took particular interest in the vehicle's in-hub motors, a first for the growing electric pickup segment which has not had any new OEM entrants since Ford and GM's limited run of mid-size electric pickups in the 1990s.
"It's called a hub motor," Trump told reporters with Lordstown CEO Steve Burns standing nearby. "And this is the only one that does this in the world, and it has a lot of advantages."
Trump asked Burns to explain the advantages.
"Well, it's just a true four-wheel drive," Burns said. "The first true four-wheel drive pickup truck ever made. So with a computer and a motor on each wheel, you can get the best traction possible. So if you look 50 years out, and cars have four wheels, they're going to have simple hub motors on them because it's — it's the simplest."
On its website Lordstown reports that the in-hub motor design has led Endurance to having the fewest moving parts of any motor vehicle resulting in "fewer maintenance costs and a significantly lower total cost of ownership than traditional commercial vehicles."
A total cost of ownership chart on Lordstown's website comparing the $52,500 Endurance to a $51,775 Ford F-150 4×4 shows the electric truck costing $7,000 in fuel and maintenance versus $19,403 for the F-150 over the same five-year period.
The 600-hp Endurance has a range of 250 miles and can tow up to 7,500 pounds although range relative to towing and/or hauling is not listed on the company's website. The truck has a base price of $52,500 and is scheduled to roll out in early 2021.
Trump played a role early on in Lordstown's plans to mass produce an electric pickup. In April 2019, after GM announced that it would be closing its plant in Lordstown, Ohio, Trump said he contacted GM CEO Mary Barra and asked her to either sell the plant to Burns or resume production on GM vehicles to restore jobs.
Ohio Senator Rob Portman who spoke at the event said the Lordstown plant and a new LG Chem/GM battery plant next door will bring back jobs lost with the closure of GM's plant where the now discontinued Chevy Cruze had been produced.
"Lordstown, Ohio, got a gut punch when General Motors decided to stop making the Chevy Cruze and pulled out," Portman said. "Fifteen hundred workers lost their jobs right away. They actually reduced the workforce over time to that.
"So this was the biggest employer in the Mahoning Valley, which is where Youngstown is and Lordstown," Portman continued. "We are now calling it 'Voltage Valley,' because we not only have this electric pickup truck being produced at the old General Motors plant, but right next to that plant, there's a new LG Chem/General Motors joint venture making batteries. And they're going to hire 1,100 people this year."