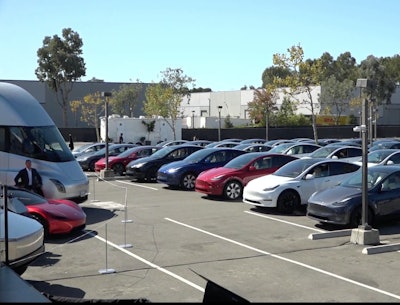 For fleets thinking 'range is the bane' when it comes to electric trucks, Tesla predicted a range increase of up to 54% during its 2020 Annual Shareholder Meeting and Battery Day event Tuesday in Fremont, Calif.
COVID-leery shareholders sitting inside their Tesla cars in a parking lot near the company's factory frequently honked in approval as Tesla CEO and co-founder Elon Musk and Tesla Senior Vice President of Powertrain and Energy Drew Baglino unfurled a long list of innovations which besides driving a big uptick in vehicle range includes a 56% reduction in cost per kilowatt hour for batteries along with a 69% cut per gigawatt hour in investment capital requirements.
So when's it all coming?
"To be clear, it will take us a year to 18 months to start realizing these advantages and probably to fully realize the advantages it's probably about three years," Musk said. "If we could do this instantly, we would. It really bodes well for the future."
Originally pegged for 300 and 500-mile ranges, a 54% increase in range would expand Semi's reach to 462 and 770 miles respectively.
Cybertruck was unveiled last November with ranges of 250, 300 and 500 miles. Those numbers would climb to 385, 462 and 770 miles respectively with a 54% boost.
No updates on Semi production were announced. In April, Tesla reported that it would begin production and delivery of its electric Semi next year, about two years later than Musk originally planned when he unveiled the rig in November 2017. Cybertruck is set to roll out in late 2022.
In addition to an ambitious plan to supply sustainable, battery-powered energy to homes and businesses, Musk said Tesla aims to make "about 20 million vehicles a year."
While it's not clear how many of those vehicles will include Semi, Musk did say there's "probably room for a volume of 250,000 to 300,000 maybe more" for annual Cybertruck production.
"It's hard to say what the volume will be for Cybertruck," Musk said. "The orders are gigantic. We have well over a half-million orders. We stopped counting."
The only other news for Cybertruck and Semi centered around the critical development of batteries which create concerns for some fleets given range limitations brought on by demanding duty cycles.
Tesla plans on producing three different batteries that will draw on a variety of materials that will decrease cobalt use. Tesla and Apple have been criticized for sourcing cobalt from mines in the Democratic Republic of Congo where reports have emerged of children being injured and killed while mining the element prized for its stable performance in battery cathodes.
Tesla announced a few years ago its shift towards nickel in place of cobalt. It reaffirmed that commitment Tuesday.
"Nickel is the cheapest and has the highest energy density and that's why increasing nickel is a goal of ours and really everybody's in the battery energy industry," Baglino said.
Nickel supplies, however, remain a concern.
"In order to scale we need to make sure that we're not constrained by total nickel availability," Musk said. "I actually spoke with the CEOs of the biggest mining companies of the world and said, 'Please, make more nickel. This is very important.' And so I think they are going to make more nickel."
So much riding on batteries
The three battery types Tesla plans to launch are iron phosphate for medium range vehicle use and stationary power supply applications, nickel-manganese "as sort of a medium-plus and high-nickel for long range applications like Cybertruck and the Semi," Musk said.
"With something like a semi truck, it's extremely important to have high energy density in order to get long range," Musk continued. "Nickel is about 50 to 60 percent better than iron."
To help further increase range, Tesla will be using larger battery cells which will then be used as part of the structural framework of its vehicles.
"The battery for the first time will have dual use: as an energy device and as structure," Musk said. "This is absolutely how things are done. It will be stiffer than a regular car. It's really major."
A chart projected on a large screen which gave the event even more of a drive-in feel, showed that using the battery as part of vehicle structure will invite a 10% reduction in mass, a 14% increase in range and eliminate 370 parts.
To help further reduce cost, Tesla plans on mining its own lithium in Nevada as well as employing a dry electrode application for battery production.
The current wet electrode process requires massive ovens and solvent recovery, while dry electrode application reduces the footprint and energy use by a factor of 10. Tesla obtained dry electrode application technology following its acquisition of battery manufacturer Maxwell in 2019.
"For people who know battery manufacturing, this is gigantic," Musk said. "We'll probably be on machine revision six or seven by the time we do large scale production. It's close to working. Even now at the pilot plant level, it's close to working. I guess it's fair to say that it does work but not with a high yield."
Feeling bullish about its prospects, Tesla announced that it will have a $25,000 passenger car available in roughly three years. But challenges remain.
Whereas Ford's affordable Model T launched the internal combustion engine as king of the road and relegated steam engines to the history books, Tesla's challenge, as with all EV manufacturers past and present, remains focused largely on batteries.
"We don't have yet a truly affordable car," Musk said. "That is something that we will make in the future. But in order to do that, we've got to get the cost of batteries down and we've got to be better at manufacturing."