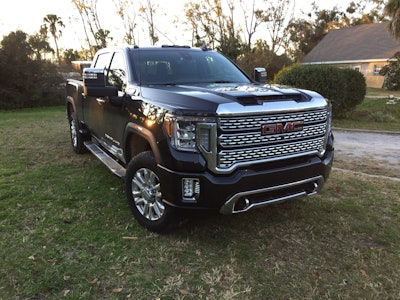 Averaging 18.4 mpg in the 2020 GMC Sierra 2500 Denali recalls the wisdom of engine performance godfather Gale Banks who recently noted the advantages of using 10-speed transmissions in pickups.
"Running the engine within a narrower window allows you to tune within that window," Banks said during a recent Diesel Tech Forum webinar. "More specifically take advantage of the aspiration aspects, in other words, the inherent engine efficiency added at the torque peak of the engine. Running the engine in a narrower window let's you optimize more highly so the powertrain has met an additional element here."
Did you get all that? In other words, additional gears and more precise tuning equates to better performance. And that's definitely the case with GMC's luxury workhorse. No matter what we threw at it, the 6.6-liter Duramax diesel paired up with the 10-speed Allison transmission not only delivered impressive power, it did so without guzzling the tank. After driving the truck for 474 miles we hit an impressive average of 18.4 mpg. Granted, Florida's flat-as-a-pancake terrain won't work a truck like the Ike Gauntlet, but that's still impressive for a heavy-duty pickup with a curb weight of roughly 4 ¼ tons.
GM is the first to use the Allison 10-speed in a heavy-duty truck. Closer gear spacing pays off with more responsive and efficient power that delivers up to 445 horses and 910 lb.-ft. torque. Put the hammer down and the truck takes off. Some of that power comes courtesy of improved air induction through a generous hood scoop and larger grille.
All of that power paid off in our four-wheel-drive crew cab as the truck easily sliced through Florida's thick sand on 20-inch wheels wrapped in Goodyear Wranglers. On the road, hard work comes easy with a max tow rating of 18,510 pounds and max payload at 3,979 pounds.
At its launch, GMC called its 2020 Sierra HD lineup "bigger, stronger and smarter," and it definitely fits. In the increasingly critical arena of high-tech features, the truck, when equipped with both driver alert packages, has plenty to offer including front and rear park assist, lane change alert with side blind zone alert (really came in handy), forward collision alert, lane departure warning and automatic emergency braking.
GM's heavy-duty trucks were never exactly small and now Sierra is even bigger but helping to manage all that girth is a multitude of camera views—up to a class-leading 15 views in all. Pulling into a tight parking spot or backing out was easy thanks to the truck's driver alerts and generous camera views on an 8-inch touchscreen.
Once you start pushing camera buttons it's hard to stop since the system provides plenty to see from a variety of angles. The overhead view delivered by HD Surround Vision paired up nicely with a shot from the tailgate and proved to be one of my favorites.
The rear camera mirror stands out as an interesting and welcomed safety upgrade. A switch on the rear-view mirror puts the camera to work. A more vibrant and thorough view takes the place of the mirror and instantly eliminates distracting head rests and rear window from view. (See before and after shots).
More interesting tech makes it way to the windshield where I got comfortable fast with the multicolor 15-inch diagonal Head-Up Display. I'd rather look straight ahead at a windshield for instructions on my next turn versus looking away for a moment or two at a map on the console's display screen. It was also nice seeing my speed and the time of day projected. Credit goes to GM's engineers for making the display complementary to the overall view ahead. Subtle but effective illumination spares it from becoming a distracting sight on the windshield.
Being a Denali, it's easy to get comfortable inside. Dark walnut and dark ash grey look good together in the interior. Leather-appointed, ten-way power adjustable seats in the front get even more comfortable thanks to ventilation and heating features. A comfortable 60/40 bench seat in the rear provides heat to the outer seats while the middle seat remains stuck in the cold. One of my passengers complained about this.
Though I'm not a big fan of sunroofs, the tinted power sunroof lets the sunshine in and provides a welcomed view. Let's hope it doesn't leak like the other sunroofs I've had.
Storage opportunities abound. Side pockets along a generously sized center console are a nice touch for those like me who seem to have far too many receipts, pens, business cards, etc., etc. In case that's not enough, there's a cubby at the front of the console to house more stuff that probably doesn't have a rightful claim to be there. Add two glove boxes and more pockets along the door and if that doesn't handle your stuff, then you can start moving in on the back seat. The 60-40 rear bench seat features hinged back rests that swing out to provide more storage. Lift up the rear seat and voila! More storage that can be optioned with a lockable lid.
My crew and I enjoyed putting the 4G LTE Wi-Fi to the test. Try as we might with multiple devices running, the Sierra's Wi-Fi kept the massive flow of bytes soaring along and kept the crew happily plugged in for the roughly 500 or so miles that we had the truck. The Bose Premium sound system did not disappoint though if you're a CD hoarder like me I would check the box for a CD player. This truck didn't have one. Wireless charging is available along with plenty of places to plug in for USB and mini-USB cables. Old school 12-volt round power sockets and 110-volt plugs are available too.
When it comes to making a truck even more convenient and innovative, you can't help but be impressed with how GM has transformed their once humble rear-end into the GMC MultiPro Tailgate. At first, it takes a little time to get used to how it all works, but once you're familiar, you'll appreciate how it's a step, work desk or platform and load dam all in one. And, as I first saw at the Detroit Auto Show in 2019, a separate rear stereo with Bluetooth can be optioned which could make you the hero at the job site or campground so long as you don't keep Stairway to Heaven on an endless loop.
Just a little beyond the tailgate in the back of the bed is a 120-volt, 400-watt plug to keep the juice flowing. Cargo bed lighting, which comes standard on Denali, provides plenty of illumination. Bed access has improved not only with the MultiPro gate, but also with the addition of GM's bedside steps located at the front of the bed just to the right of the rear door and at the back in the bumper.
You'll be hard-pressed to grow bored with all the power, comfort and technology that the 2020 GMC Sierra 2500 Denali has to offer. But good times don't come cheap. Our truck was priced with an MSRP of $78,455. If you can do with less power, you can save nearly $10,000 by skipping out on the diesel. The 6.6-liter V8 gasser paired up with a 6-speed automatic is rated at a respectable 401 horsepower and 464 lb.-ft. torque.