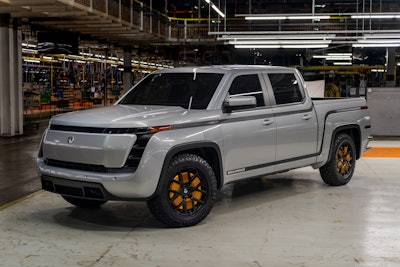 Lordstown Motors announced this week that its company is going to Wall Street thanks to a reverse merger with DiamondPeak Holdings Corp.
Upon closing of the transaction, the combined company will be named Lordstown Motors Corp. and is expected to remain listed on the NASDAQ and trade under the new ticker symbol RIDE.
"We are thrilled with the opportunity to build Lordstown Motors into a top-tier electric truck company that is highly differentiated from the competition," said Lordstown founder and CEO Steve Burns. "We are uniquely positioned to be a leader in the industry, with our first vehicle, the revolutionary Lordstown Endurance."
Lordstown is positioned to be first to market with an electric pickup which is being marketed to commercial fleets. In November 2019 the company purchased the former GM Lordstown Assembly Plant, a 6.2 million square foot facility estimated to be capable of producing in excess of 600,000 electric vehicles annually, with only modest incremental investment. Lordstown is believed to be one of the first electric vehicle manufacturers to acquire a near production ready plant where the 250-mile range Endurance is expected to roll out in early 2021.
"Our all-electric full-size pickup truck delivers the equivalent of 75 miles per gallon and has been systematically engineered and competitively priced specifically for the large commercial fleet market, which includes companies in manufacturing, contracting, utilities, transportation and delivery, and agriculture, among others," Burns said. "Since its unveiling just over a month ago, the Endurance has been met with enthusiastic support, and to date, we have secured $1.4 billion of pre-orders. Our platform is rooted in sustainability, and the entire Lordstown team is committed to ensuring we contribute to a healthier planet for generations to come."