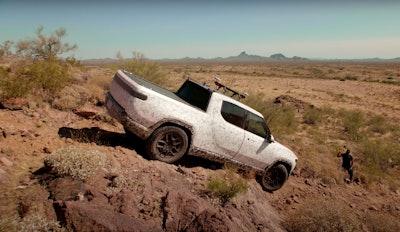 This is way, way better than watching caged robot battles. And really, it may not be long before we get to see self-driving, electric pickup battles between EV rivals Tesla and Rivian.
But don't count out all these other electric pickups that we're told will eventually hit the market: Bollinger's B2, Chevy's electric pickup (yet unnamed), Ford's electric F-150, GMC's Hummer pickup, Lordstown Motor's Endurance and Nikola's Badger.
"Release the trucks!" a hunched over Mr. Burns announces beside a huge Thunderdome–or maybe it's a swap meet parking lot where Ed Begley drops the flag. I don't care. Just make it happen.
And currently the biggest rivalry in the strange emerging world of electric pickups is not between Ford and GM but rather between Tesla and Rivian with Tesla announcing a lawsuit this week against Rivian for allegedly pilfering trade secrets while reeling in Tesla employees.
In the meantime, none of these electric truck builders has actually gotten their torquey, high-tech pickups in the hands of eager buyers. But it looks like that'll change in less than a year, at least for two of them.
COVID or not, Rivian made the following announcement today concerning production of its R1T pickup and R1S SUV which will beat Tesla's Cybertruck to market. Lordstown has pledged to beat them all with a planned release of its $52k Endurance in early 2021.
This week at our plant in Normal, IL, the work of thousands of Rivian team members comes together as our pilot production line begins running.

This important milestone brings us another step closer to our full production launch. It also allows us to more precisely estimate delivery timing.

R1T deliveries will begin June 2021. R1S deliveries will begin August 2021.

Keeping our team safe while making progress has been our top priority over these past few months. We look forward to sharing more updates soon, including details on key vehicle features, the date you'll be able to configure your R1T or R1S, as well as our plans for our charging network.

Thank you for your excitement and support for what we are building.
Rivian's news follows Tesla's announcement earlier this week about its plans for building a four- to five-million-square-foot factory near Austin where it will produce Semi, Cybertruck, Model Y and Model 3. Production on the $1.1 billion plant is set to begin this year. Cybertruck is scheduled to roll out in late 2021.