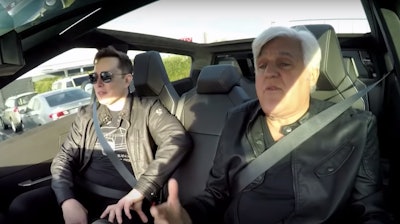 Cybertruck is too big. It needs to fit inside a normal garage.
That's what Tesla CEO Elon Musk told Jay Leno during the latest episode of Jay Leno's Garage which is scheduled to air tonight on YouTube at 10 p.m. EST.
CNBC Prime released a sneak peak of the episode on its YouTube channel which as of this afternoon had racked up nearly 2 million views.
Leno, who's shown driving the Class 2 EV with Musk sitting beside him, asked what changes might be coming for Cybertruck as it nears production.
"We're five percent too big," Musk replied. "It's got to fit in a normal garage."
Leno appears to be a fan of the truck at least when it comes to the interior which he compares to a greenhouse.
"I love how open it appears to be," he said referring to the truck's windows, huge windshield and large glass roof.
Leno and Musk drive to the Boring tunnel in Hawthorne, Calif. But will they venture inside? Will they be doing any towing and off-roading? We'll have to watch later tonight to see.
Reason Cybertruck is so planar is that you can't stamp ultra-hard 30X steel, because it breaks the stamping press

— Elon Musk (@elonmusk) November 24, 2019