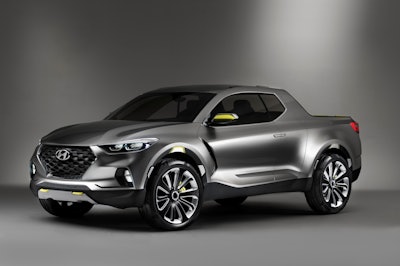 Is the world ready for another pickup? Or a compact utility vehicle that resembles a truck? Hyundai is betting on the later but what they actually have in store remains to be seen.
Five years after Hyundai revealed its Santa Cruz concept truck at the Detroit Auto Show in 2015, Roadshow reported seeing a different prototype of the automaker's first truck.
Roadshow's photos definitely differ from the concept Santa Cruz posted above which Hyundai, in a November press release, said was a compact utility vehicle that will "meet the unspoken needs of a new generation of buyers, especially Millennials."
We caught the Hyundai Santa Cruz pickup testing in Michigan https://t.co/1EAGzv48zY

— Roadshow (@roadshow) May 26, 2020
The camo version that Roadshow shot has four doors versus the two-door extended cab from five years past. Does that mean that at least two versions will be available? Hyundai's not saying yet.
Hyundai's betting big on Santa Cruz which called for a $410 million expansion to support its production at its assembly plant in Montgomery, Ala.
So, is it a pickup or a compact utility vehicle? According to Hyundai, "Santa Cruz is for those who want all the traditional attributes of a compact utility vehicle, but need the day-to-day versatility of an open bed."
Santa Cruz recalls the Subaru BRAT (Bi-drive Recreational All-terrain Transporter), but at time when crossovers are hitting it big in the market, Hyundai may enjoy more success. However, they'll be going up against Ford and Volkswagen which announced plans for a compact truck of their own.
Production on Santa Cruz is set to begin next year.