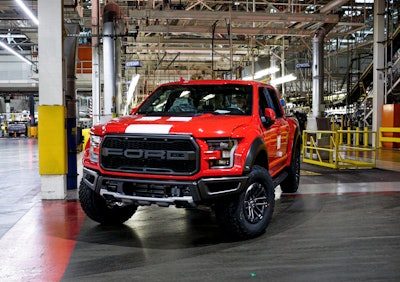 From starting up old factory lines to beginning work on a new one, OEMs delivered major news this week in the face of COVID-19.
FCA, Ford and GM reopened their Detroit factories albeit with plenty of sanitizer, social distancing and mask-wearing protocols in place.
And, in following through on its goal to build electric cars, trucks and SUVs, GM announced Tuesday that construction had started on a new EV battery factory with partner LG Chem in Lordstown, Ohio.
"During the pandemic, product development work on GM's future EV and AV portfolios continues to progress at a rapid pace," GM stated in a press release. "The Cruise Origin was revealed in San Francisco earlier this year, and production timing remains on track for the yet-to-be-revealed Cadillac Lyriq and GMC HUMMER EV, all powered by the Ultium battery system."
GM announced earlier this year that its first electric truck will go into production in late 2021 at its Detroit-Hamtramck plant. Ford, Rivian, Tesla, Lordstown Motors and Bollinger are among the other players in the growing electric pickup segment, though it's old terrain for Ford and GM, both of whom competed over 20 years ago with midsize electric pickups marketed for fleets.
With well under 100 miles of range, the electric Ford Ranger and electric Chevy S-10 were not a big hit in the late '90s. Most of the models were rounded up and crushed.
This time, however, more fleets are showing interest in EVs as range, capability and charge times improve. New York City, by way of an executive order signed by New York City Mayor Bill de Blasio in February, is on track to having nothing but electric vehicles at all of its agencies by 2040.