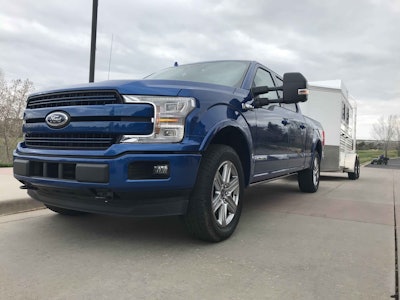 Looking for a new Ford F-150 diesel? Good luck.
The 3.0-liter Power Stroke, which made its debut in model year 2018, had not been coming up as an option for the 2020 F-150 on Ford's website for the past few months. The vehicle configurator had not been listing it for any models.
But that was Wednesday. And now on Friday it's back as a $4,000 option–at least on Ford's build-and-price page.
The 2020 F-150 diesel is still nowhere to be found on any dealer websites that we searched which includes 5 Star Ford in Dallas, Texas and Galpin Ford in Los Angeles, both of which consistently rank as some of the most prolific Ford dealers by volume.
As it turns out, COVID-19 played a roll in the oil burner's temporary disappearance from the nation's favorite 1/2-ton line-up.
"We need EPA approval on the diesel engine every year, even if there aren't any changes to it," said Ford truck communications manager Dawn McKenzie. "Approval is dependent on the EPA's timetable. We were waiting on EPA approval before we could sell the diesel engine and received it just before COVID-19 hit globally, which caused a delay. It should be back on build and price soon."
By comparison, 2020 Ram 1500, 2020 Chevy Silverado and 2020 GMC Sierra can be optioned with 3.0-liter diesel engines according to their respective OEM build-and-price websites.
Ford's configurator also offers the following engines for the 2020 F-150: 2.7-liter EcoBoost (325 hp, 400 lb.ft.); 3.3-liter Ti-VCT V6 (290 hp, 265 lb.-ft.); 3.5-liter EcoBoost (375 hp, 470 lb.-ft.); high-output 3.5-liter EcoBoost (450 hp, 510 lb.-ft.); and 5.0-liter Ti-VCT V8 (395 hp, 400 lb.-ft.).
New diesel-equipped 2019 F-150s are still for sale. A nationwide search on truecar.com revealed 64,847 new gas-powered 2019 F-150s for sale versus 207 diesel models.
Galpin Ford in Los Angeles, one of the nation's largest Ford dealers by volume, is not offering a diesel F-150 at least as of Tuesday night. Of the 364 F-150s on their lot, none are diesel either for MY 2019 or MY 2020.
Same with Five Star Ford in Dallas, Texas. Their website also showed none available on Tuesday night. Of the 570 trucks listed, none are diesel. All are gas.
This isn't the first time Ford's dabbled in diesel with less than heavy-duty trucks. Ranger was available with a diesel engine for model years 1983-1986.
According to dieselhub.com, a 59-hp 2.2-liter naturally aspirated Perkins (also known for their stout marine engines) could be optioned with 1983-1984 Ranger. An 86-hp 2.3-liter Mitsubishi turbo diesel replaced it for model years 1985-1986. After that, diesel was killed off for the popular midsize truck. More recently, the rumor mill has swirled with talk of Ranger returning with a diesel offering, which is available outside of the U.S. That would put Ford in step with GM which is the only OEM offering a diesel-powered mid-size truck in the U.S.
Note: This story was updated from an earlier version this week which at that time had noted that the diesel option was not showing up in Ford's online build-and-price tool.