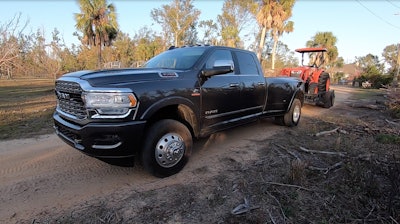 I was at the Detroit Auto Show last year when Ram unveiled the nation's strongest pickup yet—the 2019 3500, the first truck to go beyond triple digits of torque to that coveted badge of 1,000 lb.-ft.
Reporters packed the unveiling which included FCA CEO Mike Manley, then-Ram boss Jim Morrison (who now heads Jeep) and Reid Bigland, who now leads Ram.
But forget the top brass. It was the truck that stole the show—okay, watching Morrison recline in the back seat of a 3500 Limited MegaCab was pretty memorable. In a nanosecond, he shifted gears from winsome kid in a candy store to the quiet and winsome epitome of relaxation. For a second there, it looked like he might doze off and go to sleep. (Maybe he's got that same talent on long flights?)
A few months later I spotted Morrison's truck on display at The Work Truck show in Indy—a 2019 Ram 5500 Limited with a ranch body from CM Truck Beds (link is posted above).
Not too long after the unveiling in Detroit, reporters got a chance to max out the 3500's impressive max towing of 35,100 pounds just above the Colorado River on a six percent grade in historic Eldorado Canyon in Nelson, Nev. The high-output 6.7-liter Cummins I6 diesel (a roughly $12K option) paired up with a 6-speed Aisin automatic inspired plenty of confidence. More on that here along with some videos.
That trip was nice. But I wanted to spend some more time with the truck and Ram was happy to oblige. After all, we're still cleaning up after Hurricane Michael here in Panama City, Fla. and a pickup like that can definitely prove helpful. And it certainly did.
Powertrain gain
It wasn't that long ago that I was writing how Ram had reached 930 lb.-ft. torque. Of course, it was inevitable that one of Detroit's big three was going to hit 1,000 lb.-ft. where max tow ratings easily surpass 26,000 pounds and sometimes unwittingly forge ahead into trooper country where proof of a CDL may be required. (But that can depend on the state you're hauling in and if you're driving for personal or commercial use. That or you'll just get lucky until you found yourself at a weigh station playing dumb about needing a CDL.)
The 2019 Ram 3500 Limited that my family and I put to work hauling a tractor, hurricane debris and firewood actually maxes out at 34,130 lbs. towing. Why nearly a thousand pounds less? It was four-wheel drive which means giving up some towing power for extra traction—and that was a good thing in our case.
If you've ever gone off-roading in Northwest Florida or most other parts of the Sunshine State, then you know we drive through lots and lots of sand. The closer you are to the coast, the more sand you'll get. So, while driving a load of stuff out to our new house the truck got stuck in our sand-filled front yard. (Landscaping, among other things, is on the to-do list.)
No worries. I simply pushed the 4×4 high button on the dash just to the right of the steering wheel, nudged the accelerator and that quiet Cummins (roughly 10db quieter in the cab for 2019) easily pulled me out.
Unlike some other drivers, I was taught to only shift into four-wheel low as a last resort. While I didn't need to draw on every ounce of power that this tiger can dish out, I did try out four-wheel low a little while later. You can actually shift on the fly into that stump pulling gear. Not that a lot of folks will ever do that, but it's there for the taking.
Ram states in the owner's manual to keep the truck at two to three mph, shift into neutral, push the button for four-wheel low, put it back into drive and don't exceed 25mph. A little tedious, sure, but I gave it a shot and it worked flawlessly.
While at our old hurricane-battered house in Parker, we loaded up the back of the 8-foot bed with roughly 2,800 pounds of oak firewood. (That's one benefit from having huge, historic oaks crashing down in your yard. The other? No more raking leaves.) We actually only hit half of the bed's 5,600-lb. capacity.
After loading up what seemed like a lifetime supply of firewood in Florida (and there's so much more to get), we hitched up a 16-foot long tandem flat bed and loaded it down with some lumber that we salvaged from the porch that was flattened by a 200-plus year old heritage oak. I like trees, but when they turn your house into a mangled mess and punch holes into your prized two-stroke 200hp Yamaha outboard, I'm more than happy to turn them into firewood, woodchips, mulch, stump chairs, whatever. Just clear them out.
And we did. At first, I wasn't sure how the truck was going to respond with a bed-full of oak while towing a trailer. In Nevada, save for my featherlight GoPro, I didn't drive a loaded bed while towing. This trip though would allow for a different glimpse of the truck. It didn't disappoint.
First, load leveling is impressive with the truck's auto level rear air suspension. Not the slightest sag in the rear. Then after settling in and turning on the ventilated seats it was time to bolt out of stormville (we went through the eye of that Cat 5 monster) and head back across the county to Southport.
This truck came equipped with a 4.10 rear axle which if you're into utilizing the full force of that mighty Cummins, I highly recommend. Sure, you'll sacrifice MPG and top end speed with a high gear ratio, but if you're going to be using a truck like that for towing (and who isn't?) and hate the idea of losing extra get up and go (and who doesn't?) then it's worth getting the 4.10 for the extra $145. You can drop to the 3.73 axle and gain MPG and top end speed, but you're going to lose 1,400 pounds in towing capacity. Maybe it's not a big deal when you're talking 30,000 pounds plus of towing capacity, but if I'm already diving this deep into workhorse nirvana for roughly $88K, then I'm going all in.
The ride across the county back to Southport was smooth and uneventful. With upgraded brake calipers, booster, master cylinder and beefed up 365mm rotors, those red lights were nothing to fear. And there were definitely no worries about lagging behind when the light turned green. From city to highway driving, the Aisin shifted smoothly through all six gears. Same while I was hauling the Kubota as well.
And a note on suspension…while I appreciate how government construction projects in our area are slowly but surely expanding and refining the infrastructure, we've still got our share of rough roads that deliver Mike Tyson-like jabs and punches to your chassis. Makes me grit my teeth and really loathe those 'Your tax dollars at work' signs. But they hardly phased the Ram—loaded or not. Without question, it's the smoothest riding heavy-duty truck I've driven yet.
On the subject of fuel efficiency, while making the 270-mile trip from Tuscaloosa, Ala. to Panama City, the truck averaged 18.5 mpg highway according to Ram's metrics. Unloaded in city traffic we hit 16 mpg. While towing and hauling firewood in mostly city and some highway traffic, the average dropped to 12.3. The downside on fuel consumption isn't really about diesel flowing out of that 32 gallon tank—it's more about diesel exhaust fluid (DEF) tank capacity. It only holds about 2.5 gallons which had me heading to the store for DEF during my time with the truck.
The owner's manual states that you can actually fill up on more DEF in that tank but it won't be reflected in the DEF gauge on the dash. Huh?! That messes with my OCD side big time and plus it makes it look like some kind of dicey "Ah-ha!" afterthought to make up for a small tank.
Depending on your needs, other powertrain options are available. There's the toned-down Cummins 6.7-liter I6 (370-hp, 850 lb.-ft. torque) which offers up to 22,740 lbs. towing, and the 6.4-liter Heavy-Duty V8 HEMI with MDS which comes standard (410-hp, 429 lb.-ft.) and tows up to 18,210 pounds. Other trannies includes the 8-speed auto 8HP75-LCV and 6-speed auto 68RFE. Sorry, no manual, not even on the 3500 Limited chassis cab, although you can opt for a 4.44 axle ratio on that truck.
Safety and guidance
It's great to see more automated safety features being made available in larger class vehicles. For model year 2019, Ram rolled out full-speed forward collision warning plus as an option for the 3500. Don't hesitate to get it.
The automated braking system is rated among the most satisfying systems in Consumer Reports and I can see why.
While driving on the highway, an ambulance came up from behind and caused nearly all of us drivers to pull over—nearly, but not all. A driver who may or may not have been paying attention suddenly snaked over in front of me into the far right lane and braked hard. Was it a hopeful brake checker? I don't know. What I do know is that truck's collision warning system alerted me with an audible cue and a flashing light on the dash. A split-second later and it would have applied the brakes had I not applied them first. It's super squirrels like this and other road hazards that make systems like this completely worthwhile. Life can change in a heartbeat. Be prepared. Still, if you're not crazy about auto braking, you can disable it and still opt for the pre-collision warnings.
Automated braking is also part of Ram's adaptive cruise control. It works great at keeping a safe buffer between you and the vehicle ahead. Pacing distance can be set to one of three levels. I mostly kept it on medium which worked fine in city and highway traffic. If you're towing or hauling a big load, then I'd recommend the highest setting. While using adaptive cruise control, if you don't brake in time, the truck will do it for you and bring you to a complete stop if necessary.
Ram's ParkView rear back-up camera and ParkSense (both standard) for front and rear parking offer plenty of views and guidance on the screen to help you get this big truck parked safely. You can disable park assist as needed like when you're towing or driving in the country like us with bushes, trees and tall weeds all around.
There is a bit of a glitch though. With all that firewood in the bed the truck's auto leveling system dropped down just enough to where the park assist radar picked up on the rear hitch and set off an annoying alarm while I was going in reverse. It took me a second to figure out the source of the commotion. In that case, either disabling park assist or removing the hitch will solves that problem.
Blind-Spot and Cross-Path Detection (standard) proved really helpful in crowded beach traffic. Yellow triangles lit up on the side mirrors anytime a car, truck, motorcycle or scooter (don't get me started) creeped up into my blind spot. It's another great safety technology to have in place.
I like to think of Ram's Hill Start Assist as a safety feature especially in boat country here where some boat launches can seem like a hill climb. I tried the feature out at a boat launch nearby. Even while pitched at a tough angle, the truck didn't drop back in the slightest when I shifted from park to drive.
I'm betting that Ram's Trailer Sway Damping helped make for a smoother ride while hauling the firewood and towing the Kubota (a roughly 7,000-pound load). Like other camera- and radar-equipped systems, Ram's Trailer Reverse Guidance definitely helped while backing up the truck with the flatbed in tow.
Creature Comforts
When it comes to keeping you and your crew comfortable, it's hard to beat the 3500 Limited, Ram's most luxurious workhorse and arguably the most luxurious and comfortable truck period.
However, though the top grain leather and real wood trim featured in the truck's indigo/frost interior were impressive and inviting, it was the steering wheel that quickly became my new best friend. It was freezing cold when I picked up the truck in Tuscaloosa, Ala., and being too pre-occupied with heat and humidity that only Florida can bring, I had forgotten to pack gloves.
The long walk from the hotel to the truck in the parking lot didn't help. After loading up the luggage I scrambled inside the truck, fired it up, and pressed the steering wheel warming button. It didn't long for it to warm up and get my hands feeling like normal again. It felt so good—a nice, unexpected perk that stuck with me, much like the hard lesson of not packing gloves for cold weather trips. (Hey, anything below 50 degrees is cold for us.)
Things got even better when I turned on the heated seat. Three levels make it easy to find a setting that's just right. The back seats get heated too, save for the middle seat. I had one nameless passenger who got stuck with a cold seat while the rest of us got warmed up. I took a temperature gun to it later to verify if it was indeed frigid—it was. For $88K, the back middle seat needs to get toasty.
Conversely, once back in that Florida heat, those same seats cooled us down through ventilation. Eight-way adjustable seats in the front make it even easier to get comfortable.
Once you're settled in, your eyes are immediately drawn to that 12-inch touchscreen powered by Ram's Uconnect 4C Nav. It's really command central. I like how you can split the screen in half and navigate from a top window while Sirius XM plays below, or switch it around and have Sirius XM or some other window open on top where you can adjust the 17-speaker Harmon Kardon Premium sound system, tweak the air conditioning, safety controls, camera views, lighting and so much more.
UConnect draws you in fast and gets you very familiar with the truck's bells and whistles. What I also like are the push buttons on the side of the screen which will access things like stereo and A/C control saving you the trouble from poking around and looking on the screen which not only helps you keep more in-tuned with the road ahead but also helps to reduce fingerprints.
That's the only downside with this 12-inch big screen: fingerprints. They're not as noticeable when the screen's on unless it's a fairly dark display. But turn off the screen and don't be surprised to see it covered in prints. I first noticed it when stepping into the truck on a bright morning. It wanted to reach for a screen wipe fast. It just looked nasty. The rest of the truck looked amazing save for that grubby screen, and it's such a focal point that it's hard to look away. Again, not a huge problem when the screen's lit up providing directions, etc.
For the older folks in the room, like me, you'll appreciate the Limited's CD player. I've got dozens of CDs going back to the 80s when that amazing craze crashed the scene (I still like the rich crackle and pop of LPs, too.) The first CD I bought was Led Zeppelin IV in 1984 and Ram's CD player will play it. At first I was little skeptical. After dropping the disc in, the screen did absolutely nothing and no music played. Did Led Zeppelin just kill Uconnect? How am I going to tell Trevor about this? After a few moments though, it played. While it didn't display any info from the disc like artist name or song—this disc predates those features—it showed the track and time and eventually belted out "Mean ol levee taught me to weep and moan…" It had been a while.
If you frequently travel in big herd like me then you'll appreciate the 3500's ability to store drinks—lots of them. I counted 14 cup holders in all.
Another perk an active family or crew will appreciate are all the charging ports: standard and mini USBs front and back, 12-volt round plugs (front and back) and two 110-volt outlets (front and back). Still, if that's not enough, you can charge up with the Ramcharger Wireless Charging Pad (okay, so they had some fun naming that–but could it be a hint at Ramcharger's return? Though the rumor mill has gone nuts with it, FCA hasn't confirmed.)
Climate control on the A/C side was not as responsive as I had hoped. It took some time to cool things down especially for folks in the back seat. Seemed to take it a little time to drop down but ultimately got it down comfortably. Again, for $88K, A/C in the rear should be cooler.
Lights, camera, action
There needs to be a lighting award. Okay, I just made one. The 2019 Ram 3500 has the best interior and exterior lighting on a pickup ever. Done. I think the engineers were inspired by Call of Duty, Friday Night Lights, Metallica and a dash of Pink Floyd. Maybe not. Maybe someone was just breathing down their necks demanding they make it better. Whatever the case, it paid off.
Parking out in the country can be a dark, lonely business. But hit the unlock button on Ram's key fob and this truck lights up: headlights, side mirrors, cargo box, interior lights…it's a great sight to see. The bed's LED lights it up like a mini football stadium. Absolutely great. All the lights are timed so you've got a few moments to get inside the truck before everything slowly fades to black. You can always hit the unlock button again though if you want all those lumens back.
Lighting decisions were carefully thought out: from under the seats, to the center console, the glove box, the overhead lights. Smart thinking. I like the separate cargo box light in the bed too. You don't have to fish for a key fob. Just click the weather-proof button and it lights up big time.
The headlights are another impressive feat. The auto-dimming feature came in handy on dark highways where it kept the truck's powerful LEDs from blinding oncoming drivers. The only hiccup came while coming across a brightly lit sign along the road. The truck's bright lights were dimmed for a moment and then resumed their intensity after the sign flew from view.
Another great feature, especially on dark roads, are the steering directed headlights. Turn the truck sharp enough and the lights turn with you illuminating left or right areas around the pickup that otherwise would be in the dark.
Uconnect gets in on the act too with screen lighting features that can tailored to your liking. It proved especially useful while using the mapping feature.
Ram has made great inroads into combining luxury and extreme pickup muscle with the 3500 Limited. Others share our sentiments, including MotorTrend which in November crowned Ram Heavy Duty as the pickup of the year. Like so many others, we look forward to seeing what else they have in store to top one of the most innovative and strongest pickups ever offered.