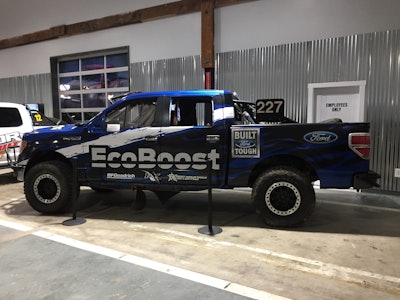 Inside a large warehouse in the middle of a non-descript industrial park in Tooele, Utah sits Ford truck history.
The only clue to the F-150's lineage—and it's not much of a clue—is a large sign on the front of the steel paneled building that reads Ford Performance Racing School.
During a kick-off presentation to the Raptor Assault program, the history of a nearby F-150 race truck was revealed. Under the F-150 XLT badging is aluminum. It's the first all-aluminum truck Ford entered in the Baja 1000. The year was 2013. The truck finished the grueling race and aside from a hole in the driver's side door, it helped paved the way for the aluminum-bodied F-150s found on the road today. (Interesting aside…the hole revealed to competitors that Ford had used an all-aluminum body in the race. Despite their misgivings, Ford had been granted approval prior to the race by Baja officials to use the lightweight body.)
Also on display is the 2017 F-150 Raptor that put Ford's then new 10-speed transmission and 3.5-liter high-output V6 to work in the Best in the Desert racing series in 2016. The truck also ran at Baja.
Test mules like this deserve some recognition. Good to see that Ford agrees.