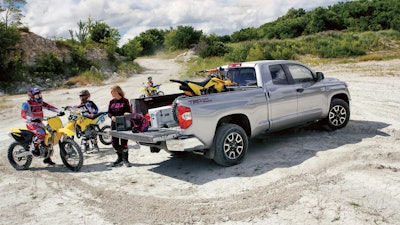 Eaton announced today at SEMA the expansion of its aftermarket ELocker differential lineup to include models that fit Toyota pickups and SUVs.
The Eaton ELocker is an electronic locking differential designed for drivers that want full control and traction on demand. The differentials introduced at SEMA fit Toyota 4Runner, FJ Cruiser, Land Cruiser, Tacoma and Tundra models, and will be available for sale in early 2020.
The ELocker features net-forged gears for the strength and durability needed for off-road and recreational driving. Its electronic controls provide driver-selectable operation and added reliability over similar air-controlled products. With the press of a dash switch, drivers can go from a fully open differential to 100-percent locked. A second press of the switch deactivates the locking feature allowing the unit to resume normal driving operation.
"Eaton is pleased to expand its ELocker lineup to include applications for popular Toyota vehicles," said Tim Bauer, vice president, aftermarket, Eaton's Vehicle Group North America. "Toyota SUV and pickup enthusiasts will enjoy Eaton's ELocker differentials that provide the strength and durability needed for traction control in the most demanding conditions."