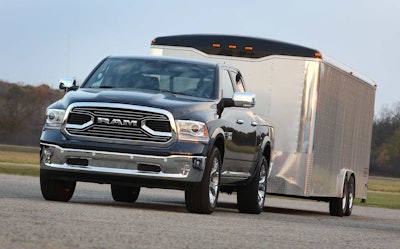 Ram is recalling nearly 108,000 of its EcoDiesel half-ton pickups following reports of fires that have been traced to exhaust gas recirculation coolers.
Microscopic cracks found in some EGR coolers on diesel-powered 2014-2019 Ram 1500 pickups may leak coolant and, according to Ram, may in rare cases lead to a fire.
"FCA US is aware of a small number of fires and four minor injuries that occurred when customers attempted to manually extinguish engine compartment fires," FCA states in a press release. "The company is unaware of any related accidents."
It affects neither the redesigned, current-generation Ram 1500, nor any gasoline-powered Ram 1500 from any model year.
FCA US will notify affected customers and advise them when they may schedule service. In the interim, customers are advised to monitor their coolant levels; if consistently low, they are advised to contact their dealers.
Customers with questions or concerns may call 1-800-853-1403.
Additional vehicles will be subject to recall in Canada (est. 50,159) and certain markets outside North America (est. 1,730).