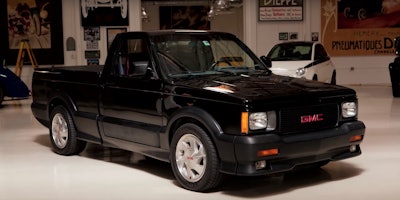 A factory pickup that beat a Ferrari?
While vehicles rolling off the assembly lines in the 90s weren't exactly known for neck-snapping horsepower, there was a limited-edition pickup that GMC produced that was faster than a Ferrari, a Corvette and, really, most anything on the road at the time.
The 1991 GMC Syclone is a midsize pickup—or rather a sleeper disguised as a truck since GM rates payload capacity at an anemic 500 pounds.
"Most people have no idea what it is and they're so surprised when you blow their doors off," Jay Leno says below in a video featuring his truck that he bought new because, well, speed matters and, as he explains with a nasty case of bed-head, this odd-ball sport truck was the fastest OEM-produced vehicle at the time.
"This little pickup truck was the fastest accelerating vehicle you could buy in 1991," Leno says. "Faster than Corvette. Faster than Ferrari 348. Faster than the Testarossa. It's hard to believe."
Indeed, Car and Driver put the truck on the cover of its September 1991 edition alongside a Ferrari that was shamed by the 280-hp turbocharged 4.3-liter Vortec V6 paired up with a 4-speed 4L60 automatic. A quarter-mile time of 13.4 seconds and a 0-to-60 time of 4.3 seconds were impressive numbers at the time for factory spec jobs.
"They were 280 horsepower from the factory," Leno explains. "Everybody seems to think that it was closer to 330 horsepower but for insurance reasons they built it at 280 much like they did with the early Hemis that were rated at 425. They're actually a lot more than that."
Only 2,995 of the trucks were made in 1991 and a scant three in 1992 before the plug was pulled.
The trucks are highly collectible. In case you're in the mood, you can plunk down $32,900 for one selling at Autotrader. With only 23,000 original miles, the truck's a pristine blast from the past.