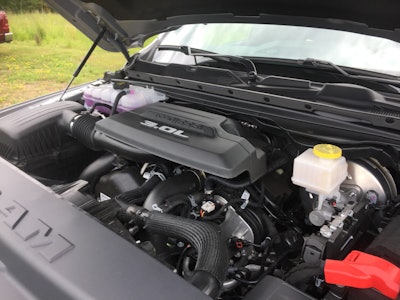 A new engine will always generate questions.
Not long after we released video of my interview with Ram's Chief Engineer Rod Romain about the new 3rd generation 3.0-liter EcoDiesel, viewers posted some interesting questions.
Keep in mind that roughly 80 percent of the 3rd gen V6 is new so there have been plenty of changes.
The first question centers on the engine's new dual, high- and low-pressure EGR system, which Ram reports is a first for a diesel engine in North America.
"Wait a minute….So the new Ecodiesel is pulling EGR gas from behind the DPF, claiming it is clean exhaust gas?" writes one viewer. "Well, how does that work when the truck decides to regen? You're pulling extremely hot EGT when that happens. Does all that burned off soot from the DPF not travel back into the intake? How does this affect the engine then?"
I relayed the question to Ram and got an answer fast from Ram EcoDiesel chief engineer Mauro Puglia.
"During DPF regeneration the soot is completely burnt and so there really isn't any soot," Puglia explained. "Furthermore, during the regeneration phase the LP-EGR valve is kept closed by calibration."
Next up came a question about a cam issue with the 2nd gen EcoDiesel.
"I had read various internet reports of the previous ED that after about 100K miles, the unpinned timing gear (cam gear maybe?) was slipping and causing valve to piston engine damage," the viewer asks. "Was that issue fixed with the new engine? Also, what's the 0-60 mph time in the 4X4 and quad-cab?"
I sent that question to Ram and got another fast response. (Wish all sources were this quick.)
"This new Gen 3 EcoDiesel engine shares very few components when compared to Gen 2 and does feature an updated timing gear set-up. For 0-60 times, we don't have anything official to share," Ram Truck spokesman Trevor Dorchies wrote.