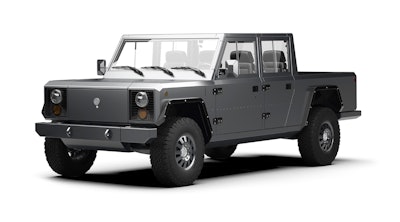 How do you stand-out in a growing field of electric pickups?
By basically doing what OEMs have been doing for decades with conventional trucks: offer more capability, more power and a competitive price.
And it looks like Bollinger is on the road to checking off the first two boxes as the Detroit-based startup nears the Sept. 26 reveal for its new four-door electric SUV and pickup, the B1 and B2 respectively.
With a gross vehicle weight rating of 10,001 pounds, the B2 is a Class 3 truck with workhorse appeal.
"It will be the only Class 3 electric vehicle out there," Bollinger CEO Robert Bollinger said during a recent interview with The Fast Lane Truck.
The dual motor, all-wheel-drive pickup offers 610 horsepower and 688 lb.-ft. torque. Payload capacity comes in at an impressive 5,000 pounds, or 550 pounds more than the 2019 Ford F-350 single rear wheel (the dually hauls up to 7,640 pounds).
To help take advantage of the Bollinger's payload strength, engineers created a drop-down mid-gate behind the rear seat which adds another two feet to the six-foot bed. For taller loads, simply fold up the rear window. Full sheets of plywood can now be loaded into the bed with the tailgate closed.
Drawbacks with this design? The rear seat has to be removed to allow for that eight-foot bed. Slamming on the brakes with a load of plywood will send that wood into the back of the front seats. When the mid-gate is opened, there'll be a loss of HVAC and a little more mingling with Mother Nature which may make life pretty interesting during downpours. Don't get too concerned though; the truck's interior is designed to be hosed down.
It's always a bit of a head-shaker watching a pickup loaded down with 16-foot long PVC pipes and two-by-fours rolling down the road. Granted, with enough rope, straps, nylon string and a little red flag you can stack up just about anything, including grandma, and make a run for Beverly Hills.
The impressive storage capability of the B2 changes all that. You can easily load up to 40 two-by-fours by opening the mid-gate, the door in the firewall (or passthrough as it's called) and the drop-down grille in the frunk (front trunk). Just slide in those long 16-foot two-by-fours or PVC pipes from front to back.
Towing is the Achilles heel for this truck at 7,500 pounds which brings up the all-important topic of range. With a 120 kWh battery pack, the B2 offers a range of 200 miles—but does that include hauling or towing? A cab full of passengers? It's not clear.
The B2 looks to be a serious off-roader. It was certainly designed that way. An adjustable hydra-pneumatic suspension system allows the truck to go from 10- to 20-inches of ground clearance. A two-speed, hi-lo range gearbox and axle lockers front and rear appear ready for action. Video released by Bollinger shows them testing an earlier prototype (the B1 half-cab) on some tough terrain in places like Moab, Utah and Ouray, Colorado.
Regarding that third box, price…well…
"It's not a cheap vehicle," Bollinger told TFL Truck. "It has six gear boxes, a 120 kWh pack—there's a lot going into this truck."
So true. Design attributes are very impressive with cutting-edge utility and attractive simplicity always at the fore. The dash was designed for easy access. Simply unthread front-facing screws to pull off a section of the dash. Exportable 110- and 220-volt power is available. An all-aluminum frame and body cuts weight but will add some cost.
Fleets with fairly predictable loads and routes could probably keep the vehicle within range while taking advantage of the truck's eye-catching design, green market appeal and much lower maintenance demands inherent with EVs.
Prices have yet to be announced. Production is expected to begin next year with deliveries beginning in early 2021.