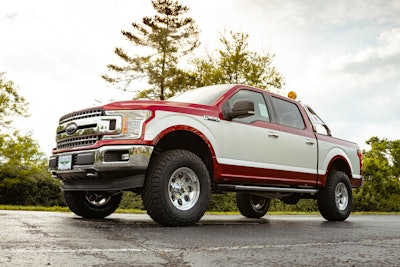 If you're feeling nostalgic for lifted, two-tone Ford trucks with plenty of chrome then a dealership in Cincinnati has got you covered.
Beechmont Ford's 2019 Retro BFB F-150 offers a 3.5-inch Ready Lift, 17-inch polished Mickey Thompson wheels wrapped in 35-inch BFG All-Terrain K02s, chrome Black Horse Bed Rack, chrome KC Hi-Lights and a Roush Performance Cat-Back exhaust "to unleash the roar from Ford's 5.0-liter Coyote V8," Beechmont writes on its website.
More power comes courtesy of an optional Roush or Whipple supercharger.
A satin pearl white wrap provides a retro two-toned look that's certain to turn heads.
"Although we recommend the XLT or Lariat Chrome Package to deliver the retro look, we can start with whichever truck you'd like," Beechmont reports. "The iconic styling that we saw in the late 1970s and early 1980s doesn't roll down the assembly line anymore but that doesn't mean we can't have it. After all, this is America."
Indeed it is.