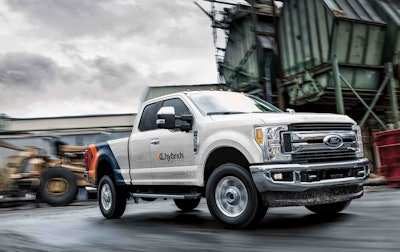 Ford's recent electric F-150 video showing the truck towing over a million pounds of train freight is impressive.
But it's a prototype and at this point it's anyone's guess where the numbers are going to end up regarding the truck's range, towing, payload, charging requirements and cost.
When the world finally gets another OEM-produced electric pickup (both Ford and GM gave it a shot about 20 years ago with an electric Ranger and S-10, respectively), some fleets will eagerly sign on while others will wait to see how everything goes with the first gen trucks.
In the meantime, fleets wishing to benefit from electrification while avoiding charging infrastructure requirements can turn to hybrid trucks and vans.
We spoke today with the University of Virginia about their hybrid pickups and van.
"We are currently running five XL Hybrids in our fleet," said Mike Duffy, UVA's transportation operations and fleet manager. "We have been able to document an increase of 23 percent in MPG with these vehicles, which has also resulted in a reduction of MTCDE (metric tons of carbon dioxide equivalent) in our environment."
In addition to lowering fuel costs, the vehicles offer extended brake life.
"The other thing you won't be paying for is brake parts because it works through regenerative braking," Duffy said. "You're going to have less maintenance."
UVA has two F-250s, two F-350s and one Transit 150 all upfit with hybrid systems from XL. XL offers plug-in hybrids which offer up to a 50 percent drop in fuel consumption, but for now UVA is pleased with their XLH upfits.
"You never have to plug them in," Duffy said. "Shops are very happy with that. If you have a barrier where you don't have the capacity to hook up to a charger you can still go ahead and do your job."
Cost for the XLH system on an F-250 was roughly $15,000, which Duffy said will eventually be recouped through fuel savings.
UVA has not closed the door on all electric vehicles. They currently have five electric Nissan Leafs and three compact electric trucks from e-ride Industries in Minnesota.
"We're trying to gather more data to see where these go," said Duffy who added that thus far the vehicles have not disappointed.