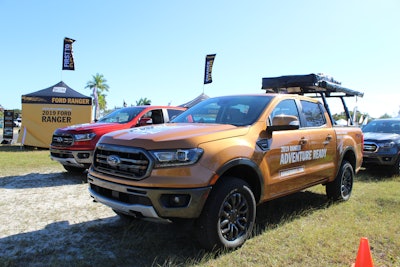 Hagens Berman, the lawfirm behind the massive Volkswagen's Dieselgate lawsuit, announced this week a class-action suit that accuses Ford of falsifying fuel economy data in 2019 Ford Ranger trucks.
The suit claims Ford "knowingly installing a mileage cheat device and misrepresenting fuel economy ratings" in its latest midsize trucks. The device is also referred to as an emissions-cheating device which attorneys say is "also likely installed in F-150 trucks and possibly all other Ford vehicles."
Ford told Hard Working Trucks this morning that they had not yet reviewed the suit.
"We haven't been served with this complaint yet. When we are, we'll review it and respond appropriately," a statement from Ford reads.
Hagens Berman reports that the suit was filed on behalf of consumers Monday in the U.S. District for the Eastern District of Michigan.
"Ford deceptively advertised its Rangers to consumers as 'best-in-class' in fuel economy," said Steve Berman, managing partner of Hagens Berman. "Ford knew that consumers pay a premium for fuel efficiency and that less fuel burned means less emissions, and therefore more profits.
"Its own employees questioned its fuel efficiency calculations," Berman added. "Ford chose to blatantly ignore the clear warning signs it was given."
Ford announced in February that Ranger would be the first among other Ford vehicles to be subjected to a fuel economy and emissions investigation following concerns that were raised within the company roughly three months before MPG figures were announced for Ranger in December.
"In September, a handful of employees raised a concern through our Speak Up employee reporting channel regarding the analytical modeling that is part of our U.S. fuel economy and emissions compliance process," said Kim Pittel, Ford's vice president of sustainability, environment & safety engineering.
"At Ford, we believe that trust in our brand is earned by acting with integrity and transparency," Pittel continued. "As part of this, we have a process for looking at how we perform and behave in our broad and complex company."
Ford hired an outside an outside firm to investigate the validity of its vehicle road load specifications used in its testing and applications to certify emissions and fuel economy. Ford also notified the Environmental Protection Agency and the California Air Resources Board of its actions.