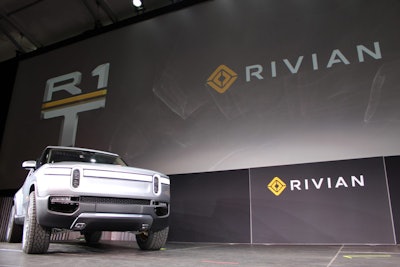 Electric truck startup Rivian may be getting a big leg up from General Motors and Amazon, both of which are reportedly negotiating an investment deal with the ambitious newcomer which only recently unveiled its electric pickup and SUV.
Rivian, which has already acquired a factory in Normal, Ill. to produce its well-received R1T truck and R1S SUV, would see its valuation increase to somewhere between $1 and $2 billion should the deal go through, according to automotivenews.com.
Last month, Duncan Aldred, vice president of GMC brand, told CNBC that the brand was thinking of producing a battery-powered Sierra pickup. GM once produced a fleet-focused electric Chevy S-10 for model years 1997-1998.
Also, Amazon is no stranger to commercial EVs. Last summer, Mercedes-Benz announced that the web retail giant would be acquiring 100 all-electric eVitos delivery vans for use in Germany.
Rivian's self-described skateboard chassis can be used in a variety of vehicle applications, including vans.