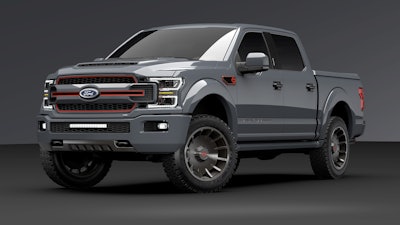 Hold on tight. Prices for the new 2019 Harley-Davidson F-150 reach close to six figures.
Check out the specs below and if you like what you see visit harleytruck.com to find the nearest Ford dealer selling the Tuscany built truck. The most expensive of the three variants, Leadfoot (shown above), is priced at $98,433. Agate Black sells for $97,415 and White Platinum can be had for $97,710 (photos below).
"The Harley-Davidson F-150 will be offered on the 2019 F-150 Super Crew with either the 5.0-liter V8 or 3.5-liter EcoBoost. It will also be offered in both 4×4 and 4×2 drivelines," Jeff Burttschell, Tuscany owner and vice-president of sales told Hard Working Trucks.
Approximately 70,000 Harley-Davidson F-150s were sold under the highly successful program from 2000 to 2012. Harley-Davidson and Tuscany Motor Co. collaborated on the build. Tuscany is a Ford Motor Company specialty vehicle manufacturer in the personal-use segment.
The 2019 Harley-Davidson F-150 includes over 70 proprietary parts designed to make the truck stylish, comfortable and unmistakably Harley-Davidson. Styling was inspired by the famous Harley-Davidson Fat Boy and CVO models.
"Harley-Davidson is one of the most iconic brands in the world," said Jeff Burttschell, Vice President, Tuscany Motor Co. "Working closely with Brad, we created a truck which will allow anyone to drive a world-class vehicle that honors the rich heritage of Harley-Davidson. Built to be recognized from a distance as a Harley-Davidson F-150, we believe it will be an instant classic."
Ford will display the truck Feb. 9 – 18 at the Chicago Auto Show.
STANDARD EXTERIOR FEATURES
4 – 22" HARLEY-DAVIDSON EXCLUSIVE "FATBOY STYLE" WHEELS
• 4 – 35/12.5/22 ALL-TERRAIN TIRES
• BDS SUSPENSION EXCLUSIVELY DESIGNED FOR HARLEY-DAVIDSON
• HARLEY-DAVIDSON EXCLUSIVELY TUNED "FOX" PERFORMANCE SHOCKS
• SPEEDOMETER RECALIBRATED
• FRONT END ALIGNMENT
• TIRE SENSORS RECALIBRATED
• POWER DEPLOYING LIGHTED RUNNING BOARDS WITH ROCK GUARD TRIM
• PAINTED ROCK GUARD END CAPS
• PAINTED CUSTOM FENDER FLARES
• PAINTED FRONT FENDER VENTS WITH BAR AND SHIELD LOGO
• HARLEY-DAVIDSON LETTERING ON FRONT DOORS
• PAINTED CUSTOM FRONT BUMPER COVER WITH SKID PLATE
• FULL REPLACEMENT PAINTED GRILLE ASSEMBLY WITH ACCENT COLOR
• HONEYCOMB INSERT BUMPER
• HONEYCOMB INSERT GRILLE
• HONEYCOMB INSERT IN HOOD
• LED LIGHT BAR INTEGRATED INTO FRONT BUMPER COVER (LED LIGHTS FOR OFF ROAD USE ONLY)
• FRONT TOW HOOKS
• FULL REPLACEMENT FUNCTIONAL RAM AIR HOOD
• RAPTOR STYLE HOOD INSERT
• HARLEY-DAVIDSON WINDSHIELD HEADER
• FLOWMASTER PERFORMANCE TUNED EXHAUST
• DUAL BILLET ALUMINUM EXHAUST TIPS WITH ORANGE ACCENTS
• PAINTED CUSTOM REAR BUMPER COVERS
• HARLEY-DAVIDSON BRANDED TAILGATE CLADDING
• HARLEY-DAVIDSON PAINTED TONNEAU COVER WITH CARPET LINER AND EMBOSSED BAR & SHIELD LOGO.
• HARLEY-DAVIDSON BRANDED BED RUG BED LINER
• 3 YEAR / 36,000 MILE WARRANTY
STANDARD INTERIOR FEATURES
CUSTOM LEATHER SEAT COVERS WITH ORANGE DIAMOND PATTERN
• EMBROIDERY AND HARLEY-DAVIDSON BADGING
• ACCENT COLOR DOOR PANELS, DASH & STEERING WHEEL TRIM
• HARLEY-DAVIDSON NUMBERED EDITION CONSOLE EMBLEM
• HARLEY-DAVIDSON LOGO CARPETED FLOOR MATS
• HARLEY-DAVIDSON DOOR SILL LOGOS
• HARLEY-DAVIDSON STAINLESS STEEL GAUGES
• BILLET RACING PEDALS
• DEEP TINTED WINDOWS (50 STATE)