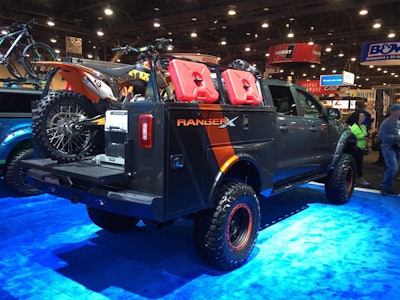 While the 2019 Ford Ranger will not be available as a regular cab, its segment-topping fuel economy, towing and hauling capabilities combined with box and backseat delete options may be enough to win over fleets—that and some notable aftermarket companies are lining up to give the truck more workhorse appeal.
Knapheide told Hard Working Trucks that they'll be offering a 72-inch aluminum service body similar to what was displayed at SEMA in October (see photo above). Look for it at The Work Truck Show in March. Custom box designs are available.
Decked, which has gained a lot of fans for its low-profile truck bed tool box system, told us that they'll be offering a storage system for the midsize Ranger. However, there's no word on when it will be ready for market.
A full line of caps from A.R.E. are in the works for Ranger with the CX Revo leading the way. Take a look at our Ranger SEMA stories for other aftermarket products.
Ranger's box and backseat delete options certainly open the door to more possibilities, and given the company's large base of upfitters, they're confident that the aftermarket will respond with plenty of options.
"That's another key advantage that Ford has versus other manufacturers," said Tim Stoehr, Ford general fleet marketing manager. "We sell more commercial vehicles than any other manufacturer in North America. So as a result, there are more upfitter companies that work on Ford vehicles and are already thinking about what they can do with that space—whether it's the box delete or the space in the back seat. I think that could be the real solution for someone who wanted regular cab. That back seat could be really secure storage."
Also, fuel-conscious fleet managers (and who isn't?) will appreciate Ranger's top EPA-estimated fuel economy ratings for a midsize 4×2 or 4×4 truck equipped with a gas engine: 21 mpg city, 26 mpg highway and 23 mpg combined for 4×2 trucks. When configured as a 4×4, Ranger returns EPA-estimated fuel economy ratings of 20 mpg city, 24 mpg highway and 22 mpg combined.
Fuel sipping and impressive workhorse numbers go hand in hand. The 2019 Ranger's 270-hp aluminum I4 paired up with a 10-speeed transmission currently delivers best-in-class torque at 310 pound feet, towing (7,500 pounds) and payload (1,860 pounds).
As it stands now, Ford expects that about ten percent of 2019 Ranger sales will go to fleets with roughly half of those serving as rentals.