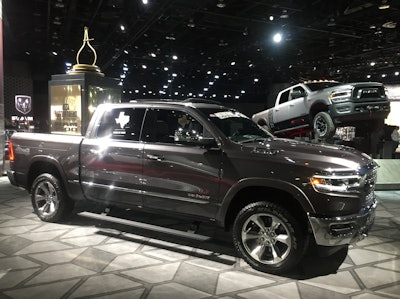 Ram continued riding an impressive wave of success today as it scooped up Truck of the Year for its 2019 Ram 1500 at the North American International Auto Show in Detroit.
This morning's announcement at COBO Center came shortly before Ram revealed its 2019 heavy-duty pickups, one of which has the most torque ever offered in an OEM-produced pickup—a 1,000 foot pounds on its 3500 equipped with a 6.7-liter Cummins turbo diesel.
But it was the 2019 Ram 1500 that won the judges over at NAIAS which was the latest in a series of wins for the truck. In October, Ram's 2019 half-ton won truck of the year from the Texas Auto Writers Association and then earlier this month Motor Trend conferred the same honor, making it a truck trifecta of sorts.
And it's not just the growing nods from judges that's got Ram fired up. It's also the customers who keep driving up sales in a big, big way.
"Perhaps what's most gratifying for me is that consumers are also seeing what the judges have seen in this vehicle," Reid Bigland, Head of Ram, said after taking the main stage at NAIAS. "In the last three months our Ram 1500 sales have been up 20 over percent. Just last month alone, in December, they were up a whopping 47 percent. So it's great that consumers are seeing what we're seeing in the Ram 1500 and what the judges have seen as well. Thank you very much. We appreciate the award."
The other two pickups up for Truck of the Year at NAIAS were the 2019 Chevy Silverado and 2019 GMC Sierra.
Jurors cited Ram's eTorque mild-hybrid technology, luxurious interiors and 12-inch Uconnect touchscreen among their top reasons for selecting the Ram 1500 over competing vehicles.
This is the 26th year of the awards. The 2013 Ram 1500 also won North American Truck of the Year honors — the last time the truck qualified for voting.