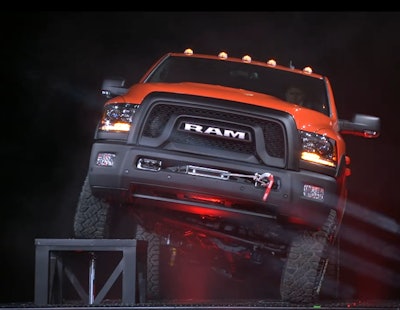 Ram Truck's press conference at the North American International Auto Show will be broadcast live Monday on three websites.
So really, you don't have much of an excuse to miss it.
But for those who are still unable to watch live, an on-demand replay will be available at the same link immediately following the event which is scheduled for Monday at 9:10 a.m. EST.
Those attending the show in Detroit can catch the conference at the Cobo Center in Hall A.
(The 2017 Ram Power Wagon shown above made a dramatic entrance at the Chicago Auto Show in 2016.)
Ram Truck Press Conference live webcast
Monday, January 14, 9:10 a.m. (EST)
YouTube: www.youtube.com/RamTrucks
Facebook: www.facebook.com/RamTrucks
Twitter: www.twitter.com/RamTrucks