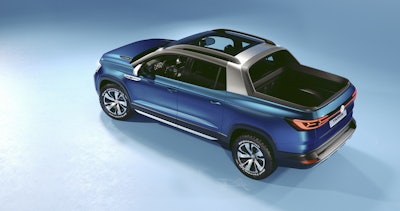 Volkswagen recently unveiled its Tarok Concept pickup in South America which is somewhat reminiscent of the Chevy Avalanche.
The all-wheel-drive truck, which features a 1.4-liter four-cylinder TSI engine that can run on 100 percent ethanol (Brazil is a huge producer of the alcohol-based fuel), can haul slightly over one ton and provides more room in the bed thanks to a collapsible bed wall and back seat. (The midgate on the Avalanche, which was last produced for model year 2013, could also be reconfigured to allow for a bigger bed.)
Bed floor space on the Tarok can be extended by opening the tailgate or using a newly designed mechanism that allows the bottom of the passenger cab rear panel to be folded down.
"With its striking Targa-inspired roof bar, charismatic front end, three-dimensional LED lighting strip in the rear, and powerful yet stylish side panels, the Tarok Concept's expressive design makes it the first pick-up to combine the stylistic elements of an urban SUV with an authentic off-road design," Klaus Bischoff, Volkswagen's head designer, explained at the truck's unveiling in Sau Paulo, Brazil. "The Tarok's DNA adds an exhilarating dynamic to the segment."
The interior of the five-seater shows off VW's penchant for something new in the pick-up segment, with its primarily digital design. Eye-catching elements include a color-keyed crossbar in cypress metallic that stretches across the entire dash panel. This crossbar surrounds a glass-covered Infotainment system, digital air conditioning controls and a digital cockpit.
The 148-hp TSI engine in the Tarok Concept is mated to a 6-speed automatic and permanent 4MOTION all-wheel drive. In addition to its E100 compatibility, the four-cylinder will also run on E22. Of course, South America gets first dibs but other markets are to follow.
"It is certain that Volkswagen will soon be offering a series version of the Tarok Concept on the market in Brazil, with barely any changes," VW writes in its press release. "The avant-garde pick-up also has the potential to boost Volkswagen's model range in other global markets. The future series model will start out with a 2.0-liter turbo diesel direct injection (TDI) TSI engine that also delivers 148 horsepower."