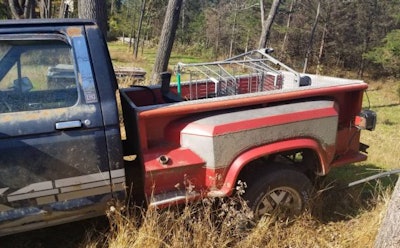 True, there's the grocery cart in the back of the bed, the huge gap between the cab and the bed and the funky gas filler neck.
But nonetheless a Pennsylvania resident recently posted an ad on Craigslist claiming to have a super rare 1987 Ford Ranger "Shadow" edition.
The only problem is that Ford—despite the insistence of some dedicated Ranger fans online—can't confirm the existence of the step-side Shadow box, according to Fox News.
Not long after the story went viral, the ad was pulled. In its place is an ad stating, "This posting has been flagged for removal."
All that's left behind now is interesting speculation. Barn Finds, which as far as we know posted the original story, states:
The "Shadow" bed, according to various internet sources, was sent to a few dealers as a complete truck (15 of which were made) or just in bed form, with the quantity cited of just five standalone beds sent out for fitting.
Well, there are also internet sources claiming to have seen extraterrestrial beings in various places, including in the back of a pickup truck (sorry, not this Ranger. Not much room either considering the grocery cart).
So, is the fiberglass bed simply an aftermarket bolt-on kit? It's possible. But it doesn't look like we'll ever know as the ad is long gone while the story of the Shadow edition lives on like Sasquatch at summer camp.