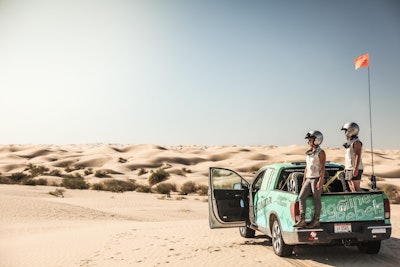 Using only compasses and paper maps, a team of Honda R&D Americas, Inc. (HRA) associates notched a Top Five finish in the Crossover Class of the 2018 Rebelle Rally, the first women's off-road navigation event in the U.S.
The Ohio-based "Ridgeline Rebels" team No. 209 of engine test engineer, Maria Guitar, and vehicle safety test engineer, Michelle Klein, drove a 2018 Honda Ridgeline to a fourth place finish.
Spanning eight days and 1,700 miles across the deserts and backcountry of Nevada and California, the Rebelle Rally is a hybrid of serious competition and the ultimate road trip. It's not a race for speed, but a unique and demanding event where the teams navigate from checkpoint to checkpoint – within set windows of time – using only compasses and paper maps.
"On a daily basis, I felt we were living out the Honda core value of the Challenging Spirit," says Maria Guitar, engine test engineer, Honda R&D Americas. "We drove and navigated across different terrains, proving to ourselves and everyone who was watching what the Honda Ridgeline and Pilot were capable of. We pushed ourselves in so many ways, whether it was picking a smart line to drive through the terrain or working together as a team, we grew each day in our abilities."
The 2018 Honda Ridgeline remained mostly stock for the rally event, with light modifications for additional durability and safety performance. Modifications included custom skid plates, extra ground clearance, off-road tires, and an interior modified for extra storage of spare tires and other equipment. Both light trucks featured Honda's Intelligent Variable Torque Management (i-VTM4) all-wheel drive system.
"With the Ridgeline's Sand Mode and capable suspension, we were able to cross steep river beds, climb rocky hills, and have a comfortable ride," Klein says.
Support for Honda's first-time Rebelle Rally competitors was a company effort that involved more than two dozen volunteers in California and Ohio. Since preparing for and participating in the Rebelle Rally provided the associates with valuable knowledge and growth experiences in their R&D roles, Honda management agreed to sponsor both first-time teams. Honda supported the associates' initiative through funding, vehicles, shop space, training opportunities and technical expertise.
Joining Guitar and Klein in the Top 5 was the California-based "Desert Dreamers" team No. 208 of Honda product planner, Ariel Jen, and senior fabricator, Melanie Morimoto. They navigated a mostly stock 2019 Honda Pilot to a fifth place finish.