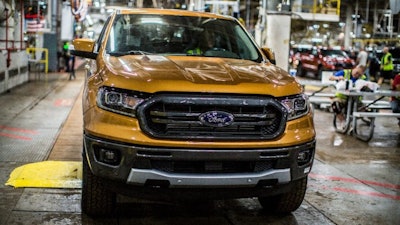 The 3,000 employees of Ford's Michigan Assembly Plant punched their time clock today with a little extra swagger in their steps. Monday marked a celebration of the facility's production of Ford's re-entry into the midsize pickup segment.
Early this year, Michigan Assembly ended production of the Ford Focus small to make way for a massive retooling effort in preparation for the Ranger and Bronco relaunch.
"The revitalization of the Michigan Assembly Plant and renewed production of the Ford Ranger is another exciting chapter in our state's comeback story," says Michigan Gov. Rick Snyder. "This is also an opportunity to look toward its promising future with production of the all-new Ford Bronco on the horizon. I thank our partners at Ford for investing in Michigan and contributing to the Motor City's legacy as the automotive capital of the world."
Yesterday's festivities mark a renaissance for a plant just outside of Detroit – a city that has ridden the highs and lows of the American auto industry for the past six decades.
The special celebration to mark the kickoff of Ranger production included leaders from Ford and the United Auto Workers.
Ford has invested $850 million to build exciting new vehicles at Michigan Assembly Plant, including the all-new Ranger for North America and the highly anticipated new Ford Bronco, scheduled to begin production in 2020.
For Michigan Assembly, a sprawling 369-acre plant in Wayne, Mich., which opened in 1957 building station wagons, the start of Ranger production marks a new era.
Beginning in 1966, the plant began a 30-year run of building Bronco, one of the original sport utility vehicles that gained popularity in post-War America. Michigan Assembly gained acclaim as being among the most important and profitable factories in the world when it made Ford Expeditions and Lincoln Navigators from 1996 to 2008.
Ford is transforming its product lineup, building on truck, SUV and commercial vehicle strengths. Ranger is the first in an onslaught of all-new vehicles that will see Ford aim to replace more than 75 percent of its current North American portfolio by 2020.
Ranger is powered by a 2.3-liter EcoBoost engine and class-exclusive 10-speed automatic transmission, Ranger will deliver driver-assist technologies and connectivity features as well as best-in-class payload, gas towing and gas torque.
"We have been waiting for this day for a long time," says Michigan Assembly Plant Manager Erik Williams. "The Ranger is back home in the U.S., and our employees at Michigan Assembly Plant are thrilled to be able to build it for our customers."