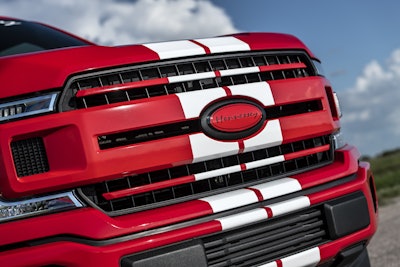 Want to drop nearly 100 grand on and F-150?
Wait. A little backstory first.
In 1967 Ford notched it's second-straight victory in the 24 Hours of Lemans with Dan Gurney and A.J. Foyt at the wheel of a red with white racing stripe GT MK IV.
Okay. Back to that $100,000 truck.
Hennessey Performance recently unveiled the last vehicle in its Heritage lineup: a supercharged 750 horsepower Ford F-150 gussied up in reverence to that 1967 Ford Lemans car.
"The 1966-1969 24 Hours of Lemans victories by Ford are some of the most momentous races in history," says company founder and CEO, John Hennessey. "After taking delivery of the 2018 Heritage Edition Ford GT, our team saw an opportunity to further honor the hard work, perseverance, and dedication that the 1967 Heritage livery represents. We now feel that the Heritage lineup is complete, and there is a vehicle available for any kind of driver and/or any kind of driving experience – whether it be off-road, track, or casual daily driving."
The 2019 Hennessey Heritage F-150 took a factory 5 liter V8 engine and gave it a 2.9 liter supercharger, high-flow air intake, catback exhaust system and upgraded fuel system components under the hood. That upped the truck's power to a 758 hp and 660 lb-ft of torque. The Hennessey Heritage F-150 is configurable in either a lowered sport truck or a lifted off-road ready set-up.
Sport configuration includes a full suspension lowering kit, front sway bars, a front six-piston performance brake upgrade, 22-inch performance wheels and tires and custom red/white livery decals. In the off-road configuration, the truck includes a 2.5-inch front suspension leveling kit, 20-inch 10-spoke off-road wheels with 33-inch Toyo off-road tires and the custom red/white livery graphics. A six-piston front performance brake upgrade is available by request for the off-road configuration.
The starting price for the 2019 Hennessey Heritage F-150 is … drumroll … $94,950, which includes a new 2019 Ford Platinum F-150 Crewcab. Production is limited to just 19 units.
The 2019 Hennessey Heritage F-150 joins the Heritage family which includes the Hennessey's 2005 Ford GT, 2018 Ford GT Heritage Edition and the 2019 Hennessey Heritage Mustang.