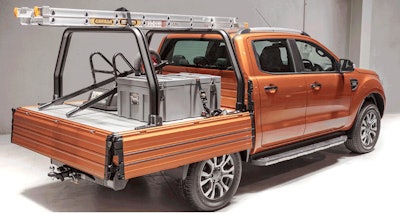 Ford's re-born Ranger pickup isn't even on U.S. dealership lots yet, but one Australian company has already developed an aftermarket bed to make the mid-size more work truck friendly. While the Ranger took an 8 year hiatus stateside, it's a staple mid-size pickup down under.
Comtruk's Sport Utility Bed (SUB) features operable side gates and tailgate. Heavy duty c-channels along the outside and inside the rack bars, top side and underside of the bed's floor, the entire perimeter of the bed and along the inside length of the operable gates give the bed its heavy-duty heft.
The bed is also a complete cargo management system that fits large pallets – something the wheel wells of a traditional pickup bed doesn't allow.
By lowering one of the gates, operators can use a forklift to load the SUB. The gates can be locked into place at 90 degrees to create a workbench – just bolt on a saw and get to work.
Comtruk and the SUB will be in Las Vegas at SEMA later this month where HWT editors expect to catch up with them and get a closer look at this setup. Stay tuned.
Comtruk Sport Utility Bed