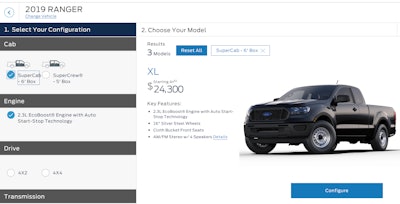 Ford is now accepting orders for its 2019 Ford Ranger, the brand's much-anticipated re-entry into the midsize pickup segment following an eight-year hiatus from the North American market.
Ford's configurator for the truck is available online. The XL SuperCab starts at $24,300, followed by the XLT SuperCab at $27,940 and the Lariat SuperCab at $32,210. All trucks are priced with a 72-inch bed. SuperCrew variants are available for all three models with a 60-inch box. A regular cab is not available.
By comparison, the 2018 Chevy Colorado extended cab with a 74-inch long box starts at $21,195. (Chevy has yet to release prices on the 2019 Colorado.) The 2019 GMC Canyon extended cab with a 74-inch bed starts at $22,395.
The 2018 Toyota Tacoma SR Access Cab starts at $25,400. The 2018 Nissan Frontier King Cab, which the company calls "America's most affordable pickup" starts at $18,990. MSRP for the 2019 Honda Ridgeline begins at $29,990.
Only one engine is available with 2019 Ranger, the 2.3-liter EcoBoost with Auto Start-Stop technology which is paired up with an electronic 10-speed transmission.
"We think when you put a 10-speed transmission SelectShift behind a 2.3 EcoBoost we're essentially going to deliver a truck that gives capability, confidence similar essentially to the bigger engines in the segment with the efficiency of the smaller engine. That's our target. That's what we're going to try and do," Ford Chief Program Engineer Rick Bolt said during Ranger's reveal in Michigan in January.
The 2019 Ford Ranger is expected to arrive in dealerships early next year.