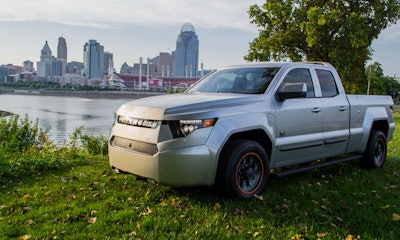 Workhorse announced today that it will be offering an all-electric pickup in addition to its hybrid W-15 which was unveiled last year.
Workhorse CEO Steve Burns said at a company event in New York that the truck will feature a range of roughly 200 miles, but will not match the payload and towing capacities of the plug-in hybrid W-15 which is rated at 2,200 and 5,000 pounds respectively.
Though he wouldn't divulge any numbers on the all-electric version, Burns is under no illusions that capability counts in the highly competitive pickup segment.
"So we think that most people will go for the hybrid," he told Fox News. "But if somebody doesn't tow much, they may like the all-electric version."
By comparison, a conventional pickup like the 2019 Ram 1500 equipped with a 5.7-liter HEMI and the mild hybrid eTorque system offers best-in-class towing at 12,750 pounds and max payload of 2,300 pounds.
Tesla also has plans to produce an electric pickup, though details are scant. Expect a range of 500 miles plus "dual motor all-wheel drive with crazy torque and a suspension that dynamically adjusts for load," CEO Elon Musk tweeted in June. There's been no formal announcements on production or price.
Though a 500-mile range in a Tesla pickup will be more than double that of the all-electric Workhorse pickup, it remains to be seen if Tesla will be able to compete on price.
Burns said that the all-electric pickup will sell for the same $52,000 sticker set aside for the hybrid W-15. The closest example to a pickup that Tesla currently offers is the Model X, an all-wheel-drive SUV that starts at roughly $80,000.
Workhorse will begin pilot production for the 460-hp W-15 hybrid electric pickup later this year in Indiana. Pre-orders number around 5,000. Production on the all-electric version may begin in two years, Burns said.
The hybrid W-15 features a range-extending 3-cylinder BMW I3 engine that kicks in after the battery's roughly 80-mile range is depleted. In electric mode the truck will deliver an estimated 75 MPGe. Once the engine engages, the truck will travel roughly 300 more miles on a tankful of gas.
Burns revealed plans for the all-electric pickup during the company's corporate rebranding announcement today in New York City. The Ohio-based company worked alongside global advertising agency Grey New York to develop its first strategic marketing platform, Work Ahead, which they say positions the company "as a loyal, relentless ally that's always ready to take action."