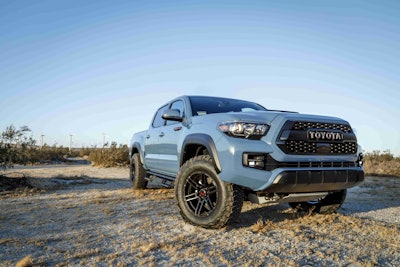 Venomrex, the new company from Vorsteiner that specializes in off-road wheels, announced today the release of its new line of Flow-Forged VR-602 wheels for Ford and Toyota trucks.
Venomrex's 17-inch VR-602 wheels are engineered to fit popular off-road vehicles including the 2009 to 2019 Ford F-150, 2010 to 2019 Ford Raptor, 2002 to 2019 Toyota 4Runner, 2007 to 2014 Toyota FJ Cruiser and 2016 to 2019 Toyota Tacoma models. The 17×9-inch wheels feature tailored offsets for a direct fitment on these models with no modifications.
"Each 17-inch wheel weighs up to 30 percent less than the competition, at 24.4 pounds per wheel," Venomrex reports in its press release.
Venomrex aims to bring unique wheels to the off-road community through the use of European styling coupled with its Flow-Forged construction process which allows the company to offer some of the lightest 17-inch off-road wheels on the market.
Flow Forging, according to Venomrex, uses excessive heat and pressure to better align the molecular compound of the aluminum allowing for substantially higher impact tolerances than those found in traditional cast wheels. Lightweight wheels reduce unsprung mass allowing for improved acceleration and braking performance.
VR-602 wheels are available in three different finishes including Coal Black, Highland Bronze and Tungsten Graphite. Venomrex VR-602 wheels are available online and through select retailers worldwide. Venomrex offers a lifetime warranty against structural and manufacturer defects as well as a two-year cosmetic warranty on the finish.
"At Venomrex our goal is to bring some of the most advanced and forward-thinking wheel technology available to the off-road market," said Derek Boler, marketing coordinator for Venomrex. "With the VR-602 we are expanding our offerings to include fitments for some of the most common off-road vehicles, with more launches coming this year."