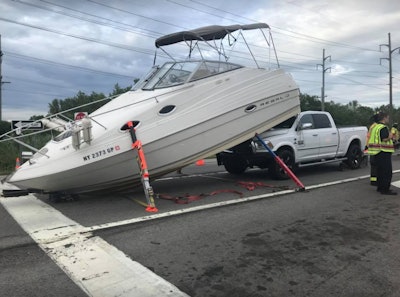 A memorable towing accident over the weekend in Ontario, New York serves as a good reminder to always secure a load before hitting the road.
Judging by the photos provided by the Union Hill Volunteer Fire Department it looks like someone may have skipped out on using transom and bow tie-down straps before towing the boat shown above.
So how did the vessel end up as a hood ornament on this Ram pickup? The boat's trim tabs, prop and ladder look to be undamaged, so it doesn't appear that the Regal cuddy cabin was struck from behind. More than likely, the truck came to a sudden stop at the light launching the boat forward right off the trailer.
Thankfully, no injuries were reported, though someone's undoubtedly going to be dragging a heavy anchor for a while.