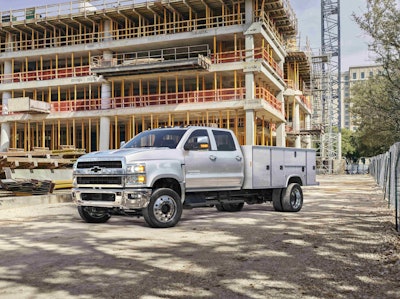 MSRP for 2019 Chevy Silverado chassis cab trucks will start at $48,465, Chevy announced today.
This includes a $1,495 destination charge, but excludes taxes, title and additional dealer fees. Customers can visit one of more than 400 Chevrolet commercial medium duty dealers to customize and price the all-new work truck. Production will begin in late 2018.
"These new Silverado chassis cabs are a great addition to our lineup because we can now offer small businesses and large fleets a truck that can be upfitted to do many jobs including construction, utility and landscape work, tow truck operations, first responder calls and more," said Ed Peper, U.S. vice president, GM Fleet. "Chevrolet was obsessed with making these Silverado trucks easy to upfit, drive and own."
The Silverado will be available in 2WD and 4WD and will be powered by a Duramax 6.6-liter diesel engine with 350 horsepower and 700 lb.-ft. of torque and Allison transmissions with a Power Take Off (PTO) option.
The frame is designed with one-piece straight rails with no rivets or brackets on top to interfere with the mounting of custom-made bodies. There are no obstacles to work around helping to save time and money during the upfitprocess.
More frame lengths are offered compared with key competitors, which can help customers specify the exact truck to suit their needs.
The truck is designed to be easy to service, with a clamshell hood and a wheel cut of up to 50 degrees that can give technicians better engine access than trucks with conventional hoods.
Optional equipment includes a twin-tank fuel capacity of up to 65 gallons, a factory-installed air suspension and a full suite of available connectivity, including OnStar, Commercial Link and a built-in 4G LTE Wi-Fi hot spot.
The ultimate Chevrolet Silverado is the 6500HD, which is similar in size to the 4500HD and 5500HD but is rated to 22,900 pounds GVWR.
"Bucket truck builders, fleet managers and many other customers told us they face a dilemma when their GVWR needs exceed 19,500 lbs.," said John Schwegman, director of Commercial Product and Medium Duty at GM Fleet. "Some pay for expensive aluminum bodies to save weight so they can stay with a Class 5 chassis. Others may spend $10,000 or more to purchase a larger truck with much more GVWR than they need. The Silverado 6500HD gives them capability and protects their bottom line. It's a great solution."
2019 Chevrolet Silverado Chassis Cab Base MSRP*
Work Truck Trim
4500HD
5500HD
6500HD
Regular Cab
2WD
$48,465
$51,100
$54,575
4WD
$51,365
$54,000
$57,030
Crew Cab
2WD
$52,080
$54,715
$58,190
4WD
$55,580
$58,215
$61,245
*Includes $1,495 DFC, excludes taxes, title and additional dealer fees.