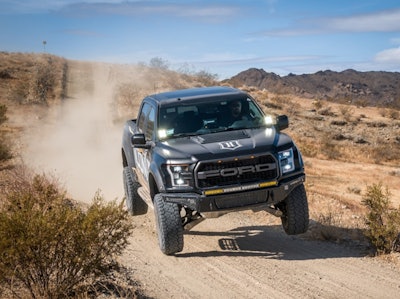 Icon Vehicle Dynamics announced the release of its Hydraulic Rear Bump Stop Kit for the 2017-up Ford F-150 Raptor.
The function of the bump stop is to control and limit the final position of the suspension during up-travel. The factory bump stops have a limited energy absorption capacity and an uncontrolled release of this energy upon rebound – translating into a harsh ride and poor handling during more aggressive driving in rough terrain. ICON's Gen 2 Raptor Hydraulic Rear Bump Stop Kit absorbs and releases this energy in a much more controlled manner which reduces rear end 'kick' to provide confidence inspiring performance.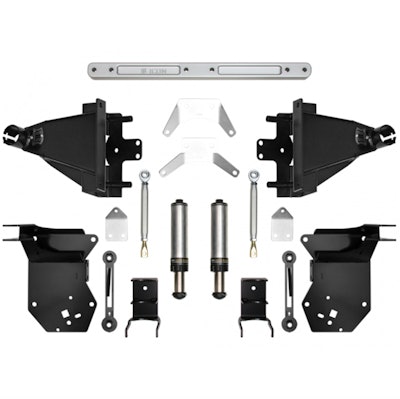 Icon reports that the 'Gen 2' Raptor is faster, lighter, and smarter than its older brother – suspension mounting locations have changed, a significant amount of weight was trimmed off of the truck, and new technology has been introduced both on the side of safety and performance.
"While lessons learned in the development of 'Gen 1' Raptor product were kept near, Icon's engineering team approached the task of developing this bump stop kit for the 2017-up Ford Raptor as if it was an entirely new vehicle," Icon states in its press release.
The Icon Raptor Bump Stop Kit includes heavy duty steel clamshell brackets, a billet aluminum frame crossmember, adjustable tension rods, hydraulic bump stops, and all of the necessary hardware required to complete the installation. T
he clamshell brackets, crossmember, and tension rods are designed to add strength to the frame to prevent damage during extreme off-road use while increasing chassis rigidity for predictable handling and improved vehicle dynamics.
According to Icon the 2.5-inch travel hydraulic bump stops feature velocity sensitive technology which means that as the shaft speed increases the damping ability ramps up, resulting in exponential bottoming resistance that won't negatively affect articulation.
KEY FEATURES
Bolt-on installation does not require any fabrication or removal of the bed
2.5-inch travel hydraulic bump stop reduces rear end 'kick' and improves overall vehicle performance
Velocity sensitive technology exponentially increases bottom-out resistance
Vehicle specific bump stop tune provides smooth engagement and excellent ride quality
6061 billet aluminum crossmember increases chassis rigidity to improve overall vehicle dynamics
Steel clamshell brackets strengthen the frame in critical areas to prevent damage from extreme off-road use
Adjustable tension rods allow the frame to be preloaded to withstand torsional force during hard impacts
Heavy duty 1.25-inch CNC machined nitro steel shafts
Multi-stage CAD plated body for maximum corrosion resistance
Replaceable noise-reducing striker pad
Fully serviceable
'ICON 1K' tested under rigorous off-road conditions to validate tune, performance, strength, and durability