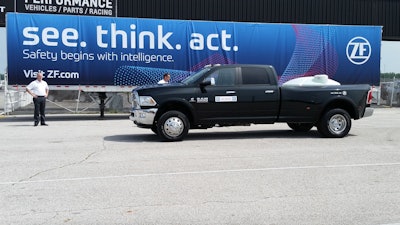 Two things keep coming back to mind when recalling a test-drive this week in a Ram 3500 pickup equipped with ZF's new 8-speed PowerLine automatic transmission: increased power and better fuel economy.
Okay, that and impressive weight reduction, versatility in terms of vehicle applications and extensive R&D—all of which come together to make this continuously variable transmission one to watch.
ZF's new 8AP transmission springs from plenty of real-world development through its established passenger vehicle variant, the 8HP, which has been in production since 2007. Roughly 15 million units have made their way into Ram, Jeep, Dodge, BMW, Audi and Porsche vehicles.
But where the 8HP cools off at 430 lb. ft. of torque the 8AP picks up the pace and delivers up to 1,000 foot pounds. That added power, according to ZF, makes the 8AP a good fit for Class 5 – 8 trucks, buses, RVs and pickups. (When it comes to Class 8, think baby 8.)
On Wednesday, reporters at Lucas Oil Raceway in Indianapolis had a chance to try out the 8AP in a 2015 Ram 3500 equipped with a 6.7-liter Cummins. The bed of the dually pickup was weighed down with a 3,000-lb. water tank.
Acceleration on straightaways was impressive and shifting so smooth that it begged the question of performance relative to the truck's stock 6-speed Aisin. Christoper Ross, ZF's manager of product development in North America, explained that the truck had nearly a one-second zero to 60 advantage over the Aisin.
"As you loaded it up, that gap just gets bigger and bigger," Ross said. "You have eight speeds versus six. You have a deeper first gear than the original first gear. You have closer steps. All these things combine to make a huge difference. It makes a huge difference on the acceleration performance of the vehicle."
Ross pointed out other differences.
"The second gear of this transmission is numerically the same as the first gear of the transmission it replaced," he said. "This truck really wants a faster axle in it to down-speed the engine to take advantage of that really deep first gear. We can speed up the axle and down-speed the engine and still have better launch performance in first gear than you had before. You take advantage of that by putting a faster axle in it that allows you to keep the first gear performance and down-speed the engine for fuel economy."
So, for diesel pickup drivers that want to hit faster highway speeds without sacrificing fuel economy—and who doesn't?—it looks like the 8AF will deliver. Or as Ross likes to say, it's a matter of powertrain matching 101.
"The wider, overall gear spread and the deep first gear allows you to take advantage of that by putting a longer axle in the back to down-speed the engine and still have better performance in first gear," Ross explained. "So, it's the best on both ends: it slows your engine down in top gear and still gets your first gear launch performance in first gears. You don't have a compromise. It's win-win."
ZF is thinking ahead with the 8AP and reports that it's prepared for hybrid modules to meet future legislation and market requirements. When compared to a conventional six-speed transmission, expect up to a 10 percent decrease in CO2 emissions, 45 percent weight reduction, a 30 percent drop in noise and a 10 percent gain in fuel economy.
"The ultimate goal of ZF is to reduce the total costs of ownership through more value for the money with higher torque rating capabilities and the lowest operating costs, such as fuel savings, extended fluid change intervals, lifetime fluid filter, and more," said Mitja Schulz, ZF senior vice president and head of commercial vehicle technology in North America. "Thanks to its automotive genes, the PowerLine brings excellent shift qualities, no matter if truck, bus or HD pickup – comfortable, fast, and without any interruption in acceleration."
The 8AP is expected to hit the market in 2020. Though the odds were slim we reached out to Ram which, as expected, would not comment on ZF's latest transmission.