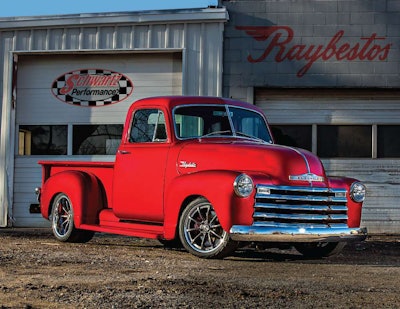 If you're a fan of restomod pickups then take a few minutes to check out the Raybestos 1953 Chevy pickup.
Schwartz Performance in Woodstock, Ill. worked hard to transform an old 3600 workhorse into an impressive, head-turning truck that's got power to spare.
Under the hood is a 2017 LT-series 5.3-liter V8 that's been paired up with a T56 Magnum six-speed manual. Schwartz Performance founder Jeff Schwartz said the truck tops out at 425 horses. That's a big step up from the truck's original 85-hp 216 cu. in. engine.
Of course, power doesn't mean much unless it's got a solid foundation. In this case, Schwartz opted for his tried and true bolt-in G-Machine chassis with optional center bracing.
Other specs, photos and a video are posted below. More photos and videos detailing the build from start to finish are available at raybestosbuild.com.
The truck is also currently on a North American tour which will conclude at the Automotive Aftermarket Products Expo this October in Las Vegas. There Raybestos plans on giving the truck away to a lucky auto professional at the show.
Frame & Suspension
Schwartz Performance bolt-in G-Machine chassis with optional center bracing
Ridetech single-adjustable coilovers
Unisteer/Maval power steering rack
Raybestos front & rear brake system- 14" Advanced Technology rotors, 4-piston HD calipers, and Raybestos Truck brake pads
Engine
2017 Gen V LT-based L83 5.3L engine
Chevrolet Performance LT1 harness & ECU, custom tuned by Late Model Throttle
Dirty Dingo custom front serpentine drive system w/Maval power steering pump & Sanden AC compressor
Modified LS7 Z28 exhaust manifolds to fit LT heads
Custom 2.5″ stainless steel exhaust, mandrel bent & TIG welded, with Magnaflow mufflers & SLP resonators
Drivetrain
T56 Magnum 6-speed, clutch kit & slave cylinder, by American Powertrain
Custom steel driveshaft
Moser steel 9″ rear end housing w/Torino bearing ends
Moser 31 spline axles
Moser 9" third member, 31 spline axles, TrueTrac differential, 3.70 gear
Wheels & Tires
Forgeline ML3C 3-piece Forged wheels, 18×9 front, 18×12 rear, finished in transparent smoke with a polished lip
BFG Rival S tires, 275/35/18 front, 335/30/18 rear
Paint and Body
Original cab, minor rust repair by Schwartz Performance
New sheet metal & trim components by Dynacorn International
PPG primer & paint materials
Color: Light Toreador Metallic, material by PPG & The Color Shoppe
Bodywork & paint by Schwartz Performance
Interior
TMI Products full interior kit: Bench seat, carpet, door panels, and 2pc headliner
HushMat sound deadener applied throughout entire cab
Flaming River steering column, Waterfall steering wheel & billet hub adapter
com retractable 2-point seat belts
CRUNCH Audio 8″ subwoofer, 4-channel 1400w amp, and 5.25 / 6.5 inch 3-way speakers
Bodywork & paint by Schwartz Performance
Other Features
Bolt-in BeCool aluminum radiator w/electric fan
Dakota Digital HDX gauges- custom with Raybestos & Schwartz Performance logos
Vintage Air Mini A/C system & vents
Rock Valley stainless fuel tank with internal LT1 Camaro EFI pump
Optima YellowTop battery
MechanixWear gloves to get the job done