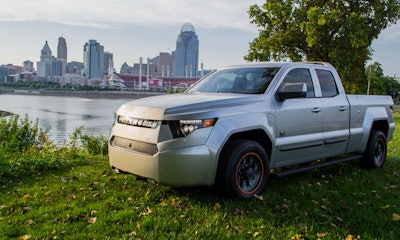 Workhorse announced that it will exhibit its new W-15 range-extended electric pickup truck during a six-city tour, kicking off today at the Greater New Haven Clean Cities Coalition in New Haven, Conn.
"When we set out to create the W-15, we wanted to create the best pickup truck for fleets, and it just so happened to be electric," said Steve Burns, CEO of Workhorse.
The initial five cities the W-15 will make makes stops in are listed below:
May 29: Greater New Haven Clean Cities Coalition; New Haven, CT
May 30: RIPWA Ride and Drive; Warwick, RI
May 31: City of Boston Mass DOT & City of Framingham; Boston, MA
June 1: Green Your Fleet! Workshop; Concord, NH
June 3-5: Electric Utility Fleet Managers Conference; Williamsburg, VA
The tour will conclude at an event in New York City in late June.
The Workhorse W-15 light duty design is based on the same platform technology used in the Workhorse N-GEN electric delivery van, and is the first plug-in range-extended electric pickup built from the ground up by an OEM in the U.S.
With an expected 80-mile all-electric range using Panasonic 18650 Li-ion batteries, the battery pack will cover the vast majority of miles driven in a day by fleet operators. If needed, the range extender will activate to continuously charge the batteries, allowing additional unlimited range to complete the day's tasks.
The W-15 will also feature the ability for workers to power equipment directly from the vehicle's batteries, without the vehicle running, which allows a crew to complete their duties without an external power source. With the goal of being the safest pickup truck in America for fleet operators, the W-15's safety features include an extra large front crumple zone and crash mitigation technologies, including automatic braking and lane centering. Once production commences, the W-15 is anticipated to have a $52,500 MSRP.