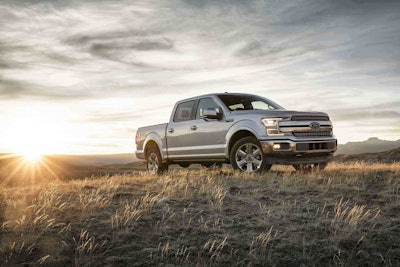 Ford will resume production of its F-150 at its Kansas City plant this Friday following a shut-down brought on by a major fire at its parts supplier in Michigan.
Union members of Local 249 in Kansas City received a letter from Ford stating that its B and C crews will go back to work Friday and that its A crew will return on Monday, according to the Kansas City Business Journal.
It's not clear when F-150 production will resume at Ford's assembly plant in Dearborn, Michigan, or when Ford Super Duty trucks will again start rolling out of its plant in Louisville, Kentucky. Ford's plant in Ohio has continued to build Super Duty pickups.
Most of Ford's F-Series pickup production came to a stop following an intense fire on May 2 at OEM part supplier Meridian Magnesium Products of America's plant in Eaton Rapids, Mich.
USA Today reported that the Chinese-owned plant had been hit with several safety violations prior to the blaze which was accompanied by several explosions. Since 2014, Meridian has received seven safety violations, some of which involved serious employee injuries.
The non-unionized plant produces parts for several OEMs, including GM, FCA and Mercedes all of which were affected by the fire.
Last week during a telephone press conference, Joe Hinrichs, Ford's executive vice president and president of Global Operations told reporters that the company had such a healthy inventory of trucks that it did not anticipate any shortages.
"Customers will not have trouble finding the F-Series that best meets their needs. We have an 84-day supply currently of F-Series trucks," Hinrichs said.